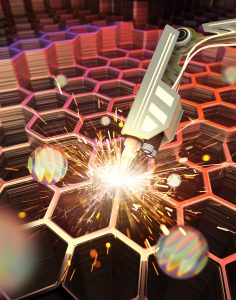 Published in Science on November 29, "Fatigue-resistant high-performance elastocaloric materials made by additive manufacturing" explores new methods of creating cooling materials and technologies that can be reused multiple times. A team of researchers, including Cyclone Engineers, collaborated on this research to create an eco-friendly material that would not wear out as quickly over time.
The materials, created using 3-D printing technology at the U.S. Department of Energy's Ames Laboratory, maintained integrity over a testing period of over four months, unlike other solid-state cooling materials that wear out after only a few uses.
This cooling material, made of nickel and titanium, is a prospective alternative for current vapor compression-based cooling technology, which has significant global-warming concerns.
Contributors of this study include Jun Cui, Iowa State associate professor of materials science and engineering and U.S. Department of Energy's Ames Laboratory faculty scientist; Valery I. Levitas, Anson Marston Distinguished Professor in Engineering, Vance Coffman Faculty Chair Professor in Aerospace Engineering and faculty scientist with Ames Laboratory; and Matthew J. Kramer, adjunct professor in materials science and engineering and director of Ames Laboratory's Division of Materials Science and Engineering.
Additional research team members include, Emrah Simsek, Tao Ma, Lin Zhou, and Ryan T. Ott with Ames Laboratory, as well as collaborators from the University of Maryland and the Colorado School of Mines.