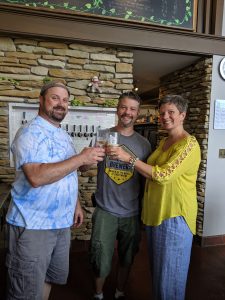 Limestone Brewers started as a hobby for Josh Olson ('99 B.S. ag systems tech) right after he graduated from the Department of Agricultural and Biosystems Engineering.
"I started home brewing straight out of college, which is how most of these breweries get started," Olson says. "I homebrewed for about five years. Then I started a family, I became busy, and I put aside brewing for a number of years."
But brewing didn't stay on the back burner forever. Olson, who is an insurance salesperson and volunteer firefighter in the northern Iowa town of Osage, soon found another engineer who had a taste for entrepreneurship. Partnering with friend Tony Wynohrad, the two set out to create Limestone Brewers
"I had my eyes opened up to many things, like operating money, finding funding, licensing and legal issues," Olson says. "We benefited from our background and ability to form a strategy to get from point A to point B."
Olson says that, when a brewery starts out, the success rate is very low. But Limestone Brewers, which is now in its second year of operations, is growing. Axe throwing, holiday celebrations and brick oven pizza have all been added to the brewery's event roster.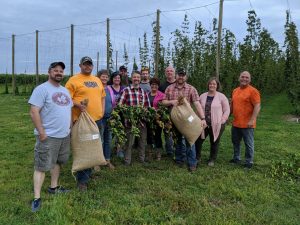 The brewery has a very family-friendly feel, says Melissa Norby (2007 B.S. agricultural and life sciences education/international agriculture, 2009 M.S. agricultural and life sciences education). Norby, who is an Osage local, knows the importance of entrepreneurship to this Iowa town.
"New businesses like Limestone are vital to small communities," Norby says. "We're fortunate in Osage to have a lively main street with places to go for shopping, food and entertainment. It's always fun to hear and see the new ideas the Limestone team has to help make Osage a destination."
Limestone Brewers has several main flagship brews, including local favorites like Rope Swing IPA, Big Bin Porter and Pleasant Street Cream Ale. Each has a tie back to the surrounding area. For example, the name Big Bin Porter is a tip of the hat to the Osage Big Bin grain wagons made in the area a half century ago.
Though Olson chuckles about the fact that Limestone Brewers is situated smack in the middle of Busch Light and Budweiser territory, he hopes that these new flavors will become favorites of the community's palates. You can often find Olson and his fellow brewers explaining the different choices on tap to customers and helping them discover a new drink.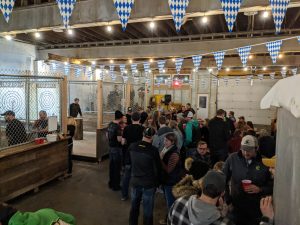 "There is absolutely nothing wrong with Busch Light or Budweiser," Olson says. "Sometimes, when you put a darker beer in front of someone, you can see their eyes get big and they start to hesitate. But we know that they're coming to Limestone Brewers for the experience of a new brew. So we talk through the beer with them, its flavor and its feel. We just want to bring something a little different to people in our area who, like ourselves, like good craft beer."
Limestone Brewers can be found at 518 Main Street in Osage, Iowa. Find more, including hours and menus, at their website, www.limestonebrewers.com.