The annual race against the clock for chemical engineering graduate students made its return in the department's 2019 Perfect Pitch competition, and this year's top three finishers have been announced.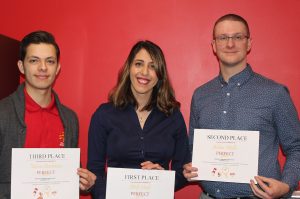 All chemical engineering graduate students who have completed their research progress exams (qualifiers) presented their research projects to students, faculty and staff under a strict 90-second time limit. One Power Point slide could be used with the presentations.
The students vied to be among the top three finishers in judging by selected individuals in attendance. They are:
First place: Atefe Hadi, "Addressing Stability and Toxic Solvent Issues in Halide Perovskites," major professor Matthew Panthani
Second place: Adam Mullis, "Rational Design of Antimicrobial Nanomedicines," major professor Balaji Narasimhan
Third place: Moises Contreras, "Battling Antibiotic Resistance," major professor Thomas Mansell
Hadi receives a cash prize of $150, Mullis receives $100 and $50 goes to Contreras.
Judging of the presentations focused on:
What is the real-life problem your research addresses?
How does your approach uniquely solve the problem?
What is the potential impact if your research is successful?
Quality of the visual aid and overall presentation style were also considered
The goal of the competition is to help students get comfortable with answering comments such as, "So, tell me about your research" from many different individuals. A wide range of evaluators view the presentations, because not everyone the students will ever present their research to will be a scientist.