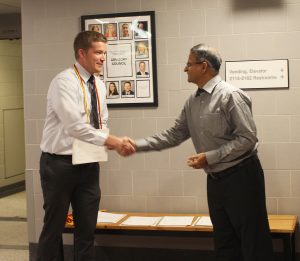 Several graduate students in the Department of Chemical and Biological Engineering (CBE) were recently honored with Research Excellence (REX) and Teaching Excellence (TEX) awards for the fall 2019 semester. These awards are sponsored by the Iowa State University Graduate College. Honorees receive a letter of commendation from ISU President Wendy Wintersteen, a certificate of achievement, and an honor cord worn during graduation ceremonies.
Fatima Enam and Sean Kelly were selected for the REX award, which recognizes graduate students for outstanding research accomplishments. Students are nominated for the REX award by their major professor, and then selected based upon a research presentation that is judged by CBE faculty.
Enam graduated from Iowa State earlier this fall and is now working as a postdoctoral fellow at the Stanford University School of Medicine. Her research at Iowa State focused on the production and use of human milk oligosaccharides (HMOs), which are prebiotics, to manipulate microbial communities for the development of beneficial bacteria in the human gut. Her major professor was Dr. Thomas Mansell.
Kelly performed research under the direction of Dr. Balaji Narasimhan. He was honored for his research dealing with the development of polyanhydride nanovaccines, which he engineered for protection against biodefense pathogens.
Adam Carr, Deon Ploessl and Alaric Siddoway all received TEX awards for their outstanding contributions to teaching in CBE. Carr was recognized for his contributions to the process control and numerical methods courses, particularly his level of professionalism and helping to develop new projects. Ploessl was honored for developing new computer learning modules in the numerical methods class as well as his exceptional dedication in recommissioning the fermentation experiment for our lab class. Siddoway was recognized for his efforts to help maintain and operate experiments our undergraduate laboratory courses and his initiative in helping our students improve their writing skills through extra reviewing and feedback sessions.