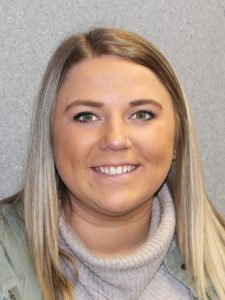 Going straight from Iowa State graduate to Iowa State employee, Kelsey Polaski has joined the staff of the Department of Chemical and Biological Engineering. She will work as a program assistant for graduate programs, business, and data analytics.
On December 20 she received her diploma with an undergraduate degree in management information systems from Iowa State's Ivy College of Business.
Kelsey has worked in the university's accounts receivable office and for the Iowa Department of Transportation as a data analytics intern. She was also the head team manager for Iowa State volleyball, has coached youth volleyball and was a softball coach for Roland-Story Middle School.
Kelsey is a native of Roland, Iowa. She's a big sports fan, especially of Kansas City Chiefs football, and also works as a portrait photographer on the side. Two of her family members also work for Iowa State.