While some high school students attend summer camp to enjoy the great outdoors, one Iowa State University alum attended a different kind of summer camp to learn about nuclear engineering and it ended up having a profound impact on her professional development.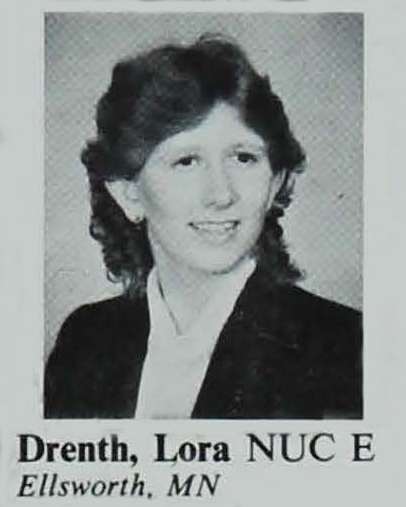 Lora Drenth grew up on a farm in northwest Iowa. As a junior at Rock Rapids High School she began developing an interest in nuclear engineering (NE), and this interest became the focus of an essay she drafted when applying for a summer academic program at Iowa State University. Drenth was admitted into the program (for which she received college credit and had the opportunity to live in the dorms) and was placed into the NE tract.
"It was my experience with the faculty in the department during this summer program that helped me to decide to enter the nuclear engineering program at Iowa State," Drenth said, adding that all but one of her five siblings pursued STEM degrees at Iowa State, which further influenced her decision to come to Ames.
She declared a NE major shortly after arriving on campus as an official student and found that because of the relatively small department size, she was able to interact directly with many of the department's faculty. Drenth became close with Richard Danofsky through her involvement with the student chapter of the American Nuclear Society, of which she served one year as president. She also fondly remembers Bernard Spinrad who served as chair of the NE department.
As a collegian, Drenth was also involved with the campus horseback riding club and Tau Beta Pi, for which she led the singing during the initiation rituals. She developed friendships with her classmates and dorm-mates from the now-defunct Westgate Hall, which once stood west of where the Thielen Student Health Center stands today, and remembers the good times they had when they would eat meals together.
"Pizza and ramen sure were cheap back then," she said with a laugh
After completing her undergraduate studies, Drenth took graduate-level courses in NE at Iowa State but she did not end up completing the degree for her program. Instead, she entered the workforce after landing a position with Northern States Power (now called Xcel Energy) in Minneapolis.
"Three of my classmates had gotten jobs there, and since I was tired of being a poor graduate student, I was happy to join them," said Drenth, adding that it was classmates she met at Iowa State who told her about the opportunity with Northern States Power.
Drenth said she began applying the concepts and methods she learned from Iowa State's NE curriculum almost immediately, even though she admits that while initially taking some of those courses she questioned when she would actually use that material in a real-world situation.
"Prior to widespread use of personal computers and word processing, we wrote down our engineering calculations by hand. So, the course on engineering drawing and writing was obviously useful," she said.
She spent the first four years of her career doing nuclear analysis and core design for Prairie Island, located in downtown Minneapolis. She eventually moved on to working on ventilation systems for the plant, before taking a brief hiatus in the early 2000s to raise her children full time. She returned to Xcel in 2006 and her new duties involved evaluating boric acid corrosion and metal fatigue, and later analysis and inspection of the internal components of reactor vessels. Her current work responsibilities focus on reactor vessel embrittlement and steam generator inspections.
Throughout her career, she said she often applied material she learned back at Iowa State, such as calculations of reactivity, control rod worth, shutdown margin, and temperature coefficients. She said concepts from courses such as heat transfer, fluid mechanics and thermodynamics proved to be useful when pursuing her Professional Engineering license earlier in her career.
Reflecting back on it, Drenth cites meeting a finance major named Malcolm Polley, her former husband, as her most memorable moment from her time on campus.
"Most of my fondest memories from Iowa State are the time spent with him," said Drenth. "I remember going to dorm parties, dances at the MU, concerts at Hilton and Cyclone football games together."
Lora currently lives on a 15-acre hobby farm about an hour outside of Minneapolis with her three horses. She jokes that she grew up just south of Ellsworth, Minn. and now she lives a few miles south of Ellsworth, Wisc. Her son Karl Polley has his architecture degree from Iowa State and currently lives in St. Paul, while daughter Morgan Williams works in public relations in Philadelphia. In December 2019, Morgan gave birth to Aldo, Lora's first and (so far) only grandchild. In her free time, Lora enjoys gardening and researching her family genealogy, but she never forgets about the strong bond she developed with her alma mater.
"Iowa State taught me the value of applying myself to reach a goal. It started with writing the essay and being awarded the opportunity to begin my studies at ISU. Focusing on the classes I needed to graduate allowed me to complete my B.S. in three years. When necessary, that ability to identify and focus on reaching a specific goal has carried through to several projects I have worked on during my career," she said.