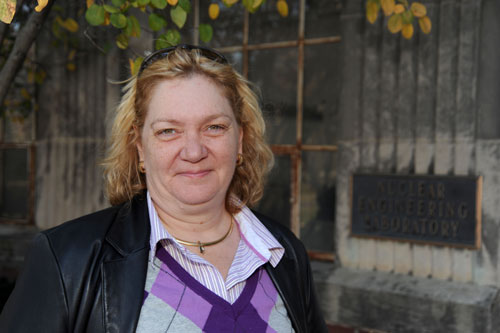 It can be challenging to understand technologies that most of us don't interact with routinely. They can be complex, arcane and hard to access in our time-constricted lives. Yet, as the recent Texas energy debacle demonstrates, it's important. One Iowa State University alum has made a career of making an important energy technology – nuclear energy – more accessible to the public.
Growing up in Mason City, Iowa, Margaret Harding took a liking to math and science from an early age. Her parents would often leave books around the house as a way to encourage her to read, but instead of gravitating toward the classic novels, she found herself more interested in books involving numbers.
"One of the books my parents left out was about prime numbers and after reading it I was like 'wow, this is cool,'" she said with a laugh.
Harding took all of the chemistry, physics and advanced math courses offered at Mason City High School. Though she briefly considered majoring in astronomy at the University of Iowa with the desire to study under renowned physicist James Van Allen, she ultimately decided to stay a little closer to home and came to Iowa State University to study applied mathematics, thinking she might become a math teacher.
However, as news about everything from carbon pollution to oil embargoes dominated the headlines during the late 1970s, Harding began developing an interest in the energy sector. This interest had a profound impact on her eventual career trajectory and she ended up switching her major to nuclear engineering (NE).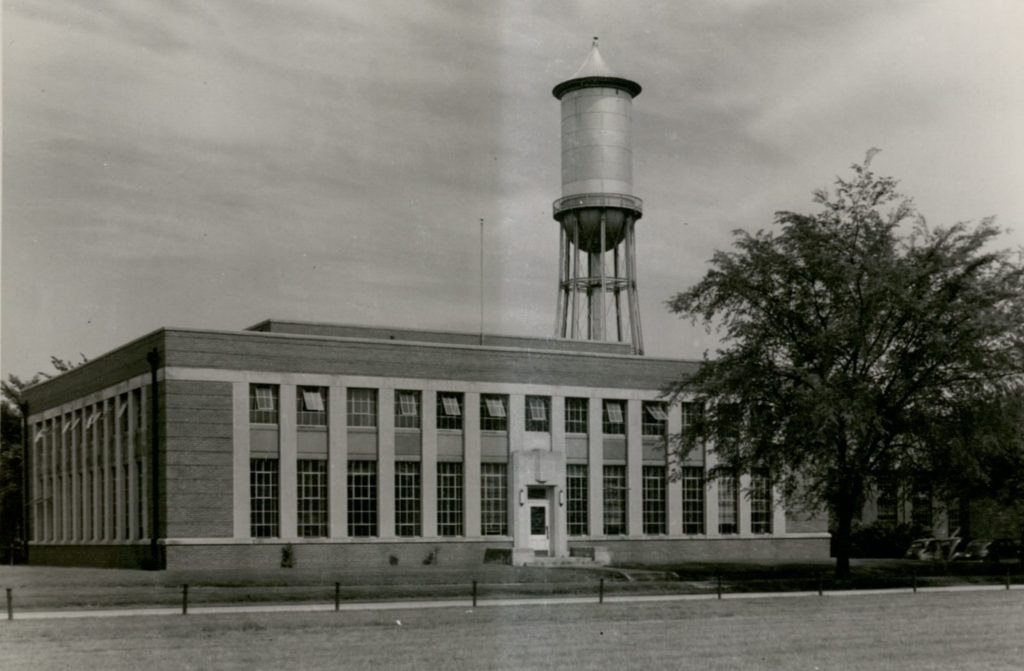 Even though the NE undergraduate program was relatively new (Harding was part of the second graduating class), nuclear-related research at Iowa State traced its origins back to the 1940s and the university's role the Manhattan Project. A formal graduate program in NE was established in 1950, and by the end of that decade; the university's teaching reactor went into operation in the Nuclear Engineering Building (where the Student Innovation Center stands today).
(For more info about the history of nuclear engineering at Iowa State University, read pages 92 thru 107 in 150 Years of Mechanical Engineering at Iowa State University)
In the curriculum, Harding learned the technical knowledge necessary to be a successful engineer. She took the theory and other concepts from her coursework. She was able to see how it applied in a practical matter, noting that seeing it in practice in the reactor helped her to conceptualize her learning.
But it wasn't just the technical knowledge itself that Harding remembers. She said the department's emphasis on other skills such as problem solving and effective communication proved to be invaluable throughout her career. In particular, she remembers the required speech and technical communications courses.
"Communication skills are important for engineering, because if you can't effectively communicate a good idea, it can be difficult for others to understand why it matters," she said.
Harding was also busy outside of the classroom. One of her fondest memories was having the opportunity to play the carillon, the keyboard-like instrument housed inside of Iowa State's iconic campanile.
"During my freshman year, the carillonneur at that time would leave the door open and you could go up and watch him play," said Harding. "After watching him play, he taught us how to play."
Being from Mason City, home to the famous composer Meredith Wilson, Harding got involved with music at an early age so she picked up the basics of the carillon relatively quickly. Just because no college experience would be complete without a little tomfoolery, she recalled sneaking up into the campanile before midnight to add extra rings during a mass "campaniling" around homecoming.
Harding completed her B.S. in NE in 1981, becoming the first female to complete the degree, and she started working for the Nuclear Engineering division of General Electric (GE). She spent nearly three decades with the company, working her way up to be vice president of engineering quality for GE-Hitachi Nuclear Energy. Throughout her career, she worked alongside many other NE graduates from Iowa State, often reminiscing about their favorite professors and other memories from their time in Ames.
In 2008, Harding left GE and the following year she started her own company, 4 Factor Consulting, LLC. She said this work allows her to combine her technical, problem solving and communications skills with her knowledge of the regulatory and business sides of the nuclear industry. She works with large government and corporate clients as well as small start-ups to leverage these skills for a variety of issues.
Harding has also served on advisory boards for WizNucleus as well as Iowa State's College of Engineering. She returned to Ames in April 2011 to present a lecture on the Fukushima Daiichi incident. During the days following the incident, she became a reliable source for many journalists as they pieced together information regarding the before and the after of the tragic event that occurred on March 11, 2011. When talking to media, she always focused on factual accuracy and steered clear of sensationalism, despite some reporters asking leading questions.
"The thing all those journalists learned was that I was a no speculation zone," said Harding. "Some journalists might have a slant, but I think most just want to get accurate info out to the public."
Harding said that using relatable analogies were often effective when relaying complicated nuclear matters to reporters. She would go on to receive the Presidential Citation from the American Nuclear Society for her role in communicating information to the public during the aftermath of the Fukushima incident.
Outside of her consulting work, Harding also developed and taught Nuclear Energy in Society at Iowa State University. She said she appreciated the opportunity to return to her alma mater and to educate the next generation of engineers about the nuclear industry.
"I would always tell my students I was usually speaking English but occasionally speak jargon without realizing it, so stop me if I do," she said, adding that she always encouraged students to ask questions, even relatively simple ones, knowing that someone else in the class might have the same question but be too bashful to ask.

In her free time, Harding stays busy with her two miniature dachshunds: Woodstock, named for the village in Vermont; and Parry, short for paradox. She also enjoys baking. Lately she has been experimenting with different varieties of French-style macarons, a cream-filled, cookie-like dessert. A couple of her proudest concoctions include an orange creamsicle macaron, a king-cake macaron, and a tiramisu macaron. She has also invented a chocolate mole cookie with pumpkin seeds. Ever the engineer, she appreciates the parallels between baking and foundational engineering courses like chemistry.
"People don't realize how creative engineers really are," said Harding. "Engineering has a huge creative streak so to me baking makes perfect sense."