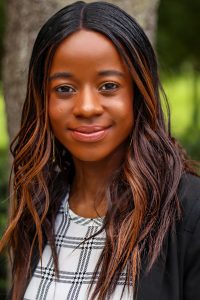 As a collegian, Tina Akinyi remembers often being the only student of color in her classes and the sense of isolation she felt because of it. Now in her professional capacity, she hopes to remove that sense of isolation for future students by bringing more people of color and other disenfranchised students into higher education.
In May, Akinyi took over as the coordinator for GEAR UP (Gaining Early Awareness and Readiness for Undergraduate Programs) Iowa. The program aims to effectively prepare students entering postsecondary education, with a particular focus on low-income and first-generation college students. Akinyi's appointment is through Des Moines Area Community College (DMACC) and she mostly serves students in the Des Moines area, but her reach extends as far west as Perry.
Her duties in this position will include supporting academic skill building, monitoring GEAR UP student grades, tracking class attendance and academic progress in order to foster on-time graduation, and being a resource, advocate, mentor and role model for GEAR UP students. Prior to taking this position, Akinyi served as an academic advisor at the DMACC Urban Campus, which helped expose her to the student services side of academia.
Akinyi was born and raised in Nairobi, Kenya's capital and largest city. She describes her home country as "not only beautiful but also culturally rich." Her parents instilled in her the importance of education, specifically the STEM fields. By high school, she discovered a strong passion for chemistry and physics, and aspired to become a civil engineer.
"Being from a developing country, I wanted to be a civil engineer because I desired to contribute to the establishment of better and stronger roads, buildings and physical infrastructure," she said.
Akinyi moved to New Brighton, Minnesota to complete her high school degree at Mounds View High School and after graduation, she enrolled at Iowa State University to pursue studies in chemical engineering. She said she chose Iowa State because of its strong engineering programs, coupled with the fact that her father, Frederick Ngesa, graduated with a degree in agricultural education from ISU in the 1980s.
After completing her B.S. in chemical engineering, Akinyi stuck around Ames to pursue her M.Eng. in mechanical engineering. Despite Akinyi's interests switching from civil to chemical to mechanical engineering, her passion for helping others has remained consistent.
In graduate school, much of her research focused on postsecondary recruitment, matriculation, retention and graduation rates of college students. She also learned more about the struggles that students of color often face in the postsecondary environment, which allowed her to reflect on her own experience as a student of color at Iowa State.
"As I look back on my time as an undergraduate, I began to make sense of why I was often the only Black student in most of my classes," said Akinyi. "Save for a few international students, there were rarely other students of color in my classes."
It was these experiences and the knowledge that she gained through them that guided her to take the career path she is on today. Despite some of the struggles, Akinyi also remembers the good times from her college years.
As an undergraduate, she served as treasurer for her dorm floor in Wilson-Owens and was part of a group called Freshman Action Team. She also served on the social committee for the Freshman Council. In grad school, she served as president of the Mechanical Engineering Graduate Student Organization (MEGSO). She said all of these experiences taught her about leadership, decision-making, risk taking, teamwork and proactivity.
"One of my highlights in MEGSO was having a fundraiser where we raised thousands of dollars by selling merchandise. And most of these orders were from ISU ME alumni. Having that support from former students was a beautiful display of college pride and solidarity," she said.
In whatever free time she manages to find, Akinyi enjoys music, reading, trying new recipes and traveling. She credits a study abroad experience in Australia as sparking her passion for travel. Through this experience, she said she developed a stronger appreciation for culture, multi-ethnicity and diversity.
In the near term, Akinyi will continue traveling around central Iowa preparing young students of color for college. While Akinyi's background is in STEM, she acknowledges that people of color and others facing adversity need to be encouraged to pursue all career fields to ensure a more democratic society that represents all voices.
"If we can have more teachers, social workers, nurses, policymakers, college presidents, entrepreneurs, realtors, journalists, engineers, etcetera, from diverse backgrounds then we can begin to bring about the systemic change that our country desperately needs," she said.