Three graduate students in the Department of Aerospace Engineering have been honored for their work with Teaching Excellence (TEX) and Research Excellence (REX) Awards from Iowa State University's Graduate College. The awards are presented each fall and spring semester to graduate students who demonstrate excellence in their scientific research or their performance in teaching.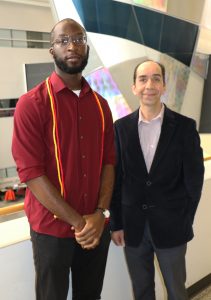 Chukwudum Eluchie (nominated by Adjunct Assistant Professor Shahram Pouya) has received the Teaching Excellence Award, while Madhusudan Vijayakumar (nominated by Associate Professor Ossama Abdelkhalik) and Shujaut Bader (nominated by Jospeh C. and Elizabeth A. Anderlik Professor of Engineering Paul Durbin) have received Research Excellence Awards.
In nominating Eluchie, who has served as a teaching assistant in an undergraduate course, Pouya reported, "he has done an excellent job leading the lab, making sure the lab experiments are set up properly and ready in time for students to operate. He made sure the lab sessions run smoothly and is very quick in troubleshooting and fixing various issues that naturally occur over the course of an experimental lab. He has always made himself available to students who need help and was prompt answering questions and helping students improve their work."
Comments from students who had Eluchie as a teaching assistant included, "The best TA I've had so far. The help sessions during the parts of the lab that I did not understand were really helpful."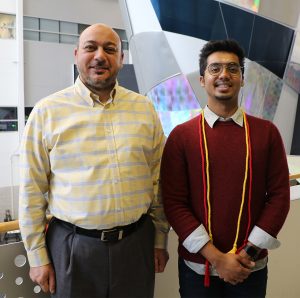 Abdelkhalik stated in his nomination of Vijayakumar, who is working with him toward his Ph.D. in space trajectory optimization, that he "is academically excellent. He has published a journal paper in the AIAA Journal of Guidance, Control, and Dynamics, which is the top journal in this field. He also presented two conference papers, and participated in another conference paper, all of which are published in the American Astronautical Society conferences on space flight mechanics, which are also highly regarded in this field. In addition to excelling in research, Madhusudan was one of the best students in my classes. He has demonstrated hard work throughout his program."
Abdelkhalik also noted Vijayakumar's work with his research group in a worldwide prestigious competition in global trajectory optimization, where the ISU team placed 20th in a field of more than 90 teams, including prestigious international groups.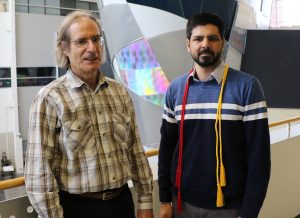 In recommending Bader for his research excellence award, Durbin stated his research in turbulent heat transfer shows a high degree of self-motivation and originality and that "he has published one research article, has another in press and has co-authored a review article with me." He will defend his Ph.D. thesis this spring. "Shujaut developed a thorough familiarity with the literature on turbulent heat transport," Durbin reported.
"He also developed his own ideas," said Durbin. "When I was invited to write a review on turbulent heat transfer for the Annual Review of Heat Transfer, it was natural to ask Shujaut to help. He did so willingly, and efficiently. Although his Ph.D. research is completed, and he is ready to defend, Shujaut is continuing to collaborate with one of my former students, who is now an assistant professor at Shanghai Jiao Tong university, and to work with me and another student on heat transfer in hypersonic flows."