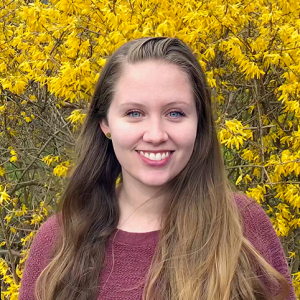 Emily Johnson completed her Ph.D. in mechanical engineering and wind energy science, engineering, and policy this summer. This fall, she started at the University of Notre Dame as an assistant professor in the aerospace and mechanical engineering department. 
In her time at Iowa State, Johnson was an author on 10 publications with 101 citations, ranging on topics from heart valve analysis with a focus on parametric design to wind turbine blades. 
She was also involved in the Center for Multiphase Flow Research and Education (CoMFRE) alongside Ming-Chen Hsu, associate professor of mechanical engineering, working in the Computational Fluid-Structure Interaction Laboratory. Johnson has interests spanning many engineering disciplines, but her specific expertise lies at the junction between parametric modeling, computational mechanics, and isogeometric analysis.
What are you most excited about in your new faculty position? 
"Based on my experience, the community and department that I am joining at Notre Dame are incredibly supportive and welcoming. I am excited to be working with many great new colleagues at Notre Dame, and I am happy that I will be able to continue working with current collaborators at Iowa State and CoMFRE as I continue my career in academia."
How did your time at Iowa State impact your career and aspirations? 
"While there were many factors in my decision to pursue a career in academia, one of the most impactful influences was my advisor, Dr. Ming-Chen Hsu. 
Dr. Hsu provided valuable guidance and advice throughout my time at Iowa State, and he offered helpful knowledge and insight about academia when I was deciding what direction I wanted to pursue in my future career. 
I was also actively involved with many student organizations at Iowa State, including the Mechanical Engineering Graduate Student Organization and the Graduate and Professional Student Senate, and interactions with faculty and other students through these organizations helped promote my interest in academic service." 
What advice would you give students seeking the academia track of engineering? 
"For students interested in pursuing academic careers in engineering, I recommend finding a supportive advisor or mentor and gaining as much research experience as possible. Attending conferences and presenting your work is an excellent opportunity to develop as a researcher while learning more about your academic community. Publications are also crucial in gaining research experience and developing a relevant background in your field. While journal articles also provide supportive research qualifications, the actual process of publishing a few high-quality journal papers presents many valuable opportunities to improve as a scholar and learn about the process and detailed effort that it takes to produce valuable research."