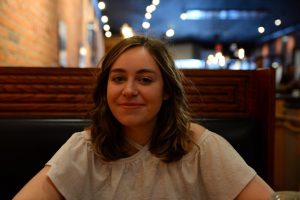 Major: Electrical engineering
Hometown: Delhi, Iowa
Clubs and Activities: Digital Women, Emerging Leaders in Engineering, Intramural volleyball
Awards and Honors: Top 2% of Engineering Students, Dean's List, graduating magna cum laude
Ren Lagrant didn't come to Iowa State to study electrical engineering, but electric engineering is the reason she stayed. 
"I wasn't really sure about electrical engineering and I wasn't sure about engineering at all, but when I got here I was so happy that I found this community of people who love to learn, people who wanted to study this really interesting subject. And I really felt like I belonged," Lagrant said.
It didn't take long for Lagrant to become involved outside the classroom. Joining clubs like Emerging Leaders in Engineering, an underground, word-of-mouth audio club and Digital Women proved Lagrant's passion for her major and future career field.  
"My junior year I joined [Digital Women] because I thought it was really important to have more female connections within my major," Lagrant said. "It was about finding a good job and networking, but also just finding friends and finding a community of people to help you with your classes." 
Within her classes, Lagrant was able to seek out a mentor, Mani Mina, associate professor of electrical and computer engineering and associate professor of industrial design.
"Dr. Mina really excels in teaching about critical thinking and being creative and that there's more to engineering than being able to recite equations. That you go in and need to question why you're here, how to be a better engineer, how to grow," Lagrant said. "He was also someone who forced the idea of having people to look up to, people who are masters of their subject, what you can and should be learning from people who know more than you." 
Lagrant had the opportunity to start off as a student in Mina's courses and later to serve as a peer mentor under Mina, which included working in the lab, mentoring underclassmen and assisting within the classroom.  
"He's really helped me come into my own and realize what made me a good engineer and it didn't have to be that I was super good at math, or that I was always going to get a perfect A, but instead it was how I approached subjects and that I was caring and compassionate and creative," Lagrant said.  
Coming in as a freshman and realizing she wasn't as knowledgeable as her peers within the field of engineering didn't discourage Lagrant, but rather encouraged her to work even harder. Lagrant recalls a time during her freshman year when a professor asked the class to raise their hand if they were familiar with a certain rule related to the topic being discussed. As Lagrant looked around the room, she realized she was one of the only students without her hand in the air.  
"I think I'm most proud of how far I've come, just my growth in general," Lagrant said. "When I started college, I didn't know I wanted to do EE, I didn't know this is what I wanted to do with my life. EE is a very math-intensive, very difficult subject and I came in knowing not even the basics of it. I think my hard work and dedication, as well as finding a really strong community of learners has helped me beyond belief." 
Her work ethic paired with her willingness to help others has allowed Lagrant to succeed in being a peer mentor, drawing on her own experiences to help lead underclassmen who might be as hesitant and nervous as she once was.  
"Yes, I still have a lot of ways to go, things that I'm going to learn in the industry, but something I'm really proud of is not knowing I belonged here, not knowing the degree, to feeling confident in my abilities to not just help myself, but help those around me, particularly as a peer mentor," Lagrant said.  
A commonly visited spot on campus for Lagrant is the third floor of Coover Hall. There, she was met with a community of individuals who were always willing to lend a hand with school work as well as a "comfortable and cozy" place to tackle it all too. While she admits it's not "the prettiest place on campus," it's served Lagrant well throughout her college career as a place where community meets courses.  
Outside of engineering, Lagrant enjoys remaining active during her free time, by playing intramural volleyball, scaling the rock wall at either of the university gyms, or by lifting weights. She also enjoys playing video games and reading.  
Her sophomore year of college, Lagrant realized she missed taking science courses and made the decision to minor in biomedical engineering, helping her to realize her dream career path.  
"My dream job is to design medical devices that are going to save people's lives and that's exactly what I'm going to do," Lagrant said.   
Post-graduation, Lagrant is going to work at Minnetronix Medical in St. Paul, Minnesota, combining her passions for technology and biology.