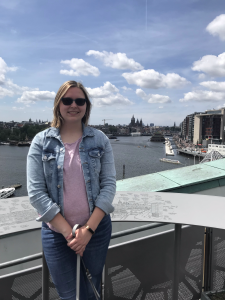 Major: Software engineering
Hometown: Farmington, Minnesota
Clubs and Activities: Learning Communities Peer Mentor, Marching Band, Symphonic Band, Concert Band, Tau Beta Pi, Winter Guard International
Angela Schauer is from Farmington, Minnesota, and is grateful for the many different opportunities Iowa State has granted her the past four years.  
"I didn't want to go to a place that was just engineering-specific, because I have a lot of other interests that I wanted to explore during college," Schauer said. "And Iowa State was able to offer me all of that." Schauer is a double-major, with majors in software engineering and German.   
Schauer has served as a Learning Communities peer mentor while at Iowa State, to underclassmen engineering students. While mentoring those younger than her, Schauer was mentored by engineering advisors, who she believes are her greatest influences.  
"They're always really supportive and really nice, always wanted the best for students and always giving us opportunities to do stuff throughout the years," Schauer said.  
When it comes to incoming students, Schauer emphasizes reaching out for help when needed.  
"It may be tough at first, but there are a lot of resources," Schauer said.  "And they just need to reach out, be it to a professor, advisors, friends in classes that they've made – just don't be afraid to reach out to those people."  
Throughout her time at Iowa State, Schauer has been involved with ISU Marching Band, different combinations of concert and symphonic band and Tau Beta Pi, along with an off-campus dance company and Winter Guard International, a percussion competition.  
Although being heavily involved, Schauer's grades never suffered and she prides herself on being able to handle a busy extracurricular schedule along with 17-to-18-credit semesters each and every semester.  
A favorite spot on campus for Schauer is the heart of Central Campus, which includes Friley Hall, Lake Laverne and the Memorial Union, although her favorite memories can be pinpointed 1.2 miles away, at Jack Trice Stadium. Schauer reminisces on the days where the stands were packed with thousands of fans, rushing the field after a memorable win and experiencing the highs and lows of Iowa State football with marching band peers.  
When she does get a moment of free time, Schauer enjoys playing video games, watching YouTube videos and scrolling through social media. While the weather is warm, Schauer would hike at Ledges State Park and admire the fall colors and take any excuse to get outside.
Post-graduation, Schauer will work full-time at Collins Aerospace at their Cedar Rapids location, where she had done an internship.