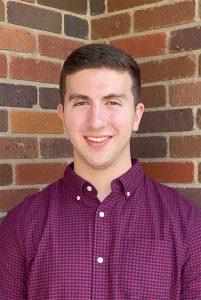 Major: Computer engineering  
Hometown: Robins, Iowa 
Clubs and activities: ECpE Student Ambassador, Hack ISU, Engineering 101 Panelist, Intramural Football, Part-time co-op during the semester 
Awards and honors: Dean's List for multiple semesters, Stanley M. Clasen Memorial Scholarship for two years 
Who was your most influential mentor while at Iowa State? 
I have had lots of guidance from various faculty and students. Two professors' classes I really enjoyed were Mai Zheng, assistant professor of electrical and computer engineering, and Akhilesh Tyagi, professor of electrical and computer engineering. They both have great teaching styles and I learned a lot in their classes. My advisor Leah Eilers has also been a great resource for me while at Iowa State. 
What would you consider your greatest accomplishments at Iowa State? 
I would consider one of my greatest accomplishments at Iowa State is the great work I have done throughout my two different co-ops. I was very fortunate to receive my first co-op the summer after my freshman year. I continued working through the school year part-time and ever since then had to balance working part-time as a co-op and being a full-time student. I am very proud of the high academic standing I have achieved while balancing work and school.  
I also enjoyed being a student ambassador for the Electrical and Computer Engineering department. Every week I would get to talk to prospective students about Electrical and Computer Engineering at Iowa State and I found it very rewarding helping students understand the exciting things that ECpE has to offer. 
What's your favorite memory of your time at Iowa State? 
My favorite memory was watching the 2017 football season. It was such an exciting season because it was such a big turnaround from the previous seasons, especially when Iowa State beat Oklahoma that year and how exciting it was. 
What's your favorite place on campus? 
The TLA in Coover Hall 
What's your advice for first-year Iowa State engineering students?  
Don't be afraid of the Engineering Career Fair. It is a really great resource if you put yourself out there. 
What do you like to do in your free time? 
I like to go boating with my family, exercise, listen to audiobooks and use my espresso machine.   
What are your plans for after graduation? 
I will work for BAE Systems in Cedar Rapids, Iowa as a Software Engineer in their Military GPS department. I also plan to pursue a master's degree in computer engineering.