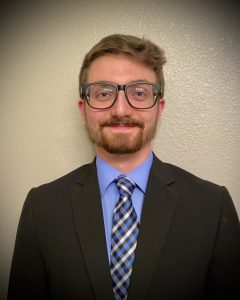 Major: Aerospace engineering   
Hometown: Ingleside, Illinois 
Clubs and activities:  Formula SAE has probably been my biggest time sink, but in a good way. Designing, building and racing a new Formula One-style car from scratch every year is very challenging and very rewarding. I worked on a variety of aerodynamics parts on two racecars, as well as other components like the radiators and engine intake system. We are always looking for new members!   
Awards and honors: Dean's List for six semesters, as well as several scholarships, including the Aerospace Engineering Excellence Fund and the Laverne Noyes Scholarship for descendants of WWI veterans. 
Who was your most influential mentor while at Iowa State? 
Several aerospace engineering faculty have been great mentors to me. Anupam Sharma, associate professor of aerospace engineering, and Benjamin Ahn, assistant professor of aerospace engineering, have each been generous enough to allow me to work as an undergraduate research assistant in their respective labs. Shahram Pouya, adjunct assistant professor of aerospace engineering, has also been patient to answer my many random aerodynamic questions.   
What would you consider your greatest accomplishments at Iowa State? 
 Not giving up on myself and my degree. It's been a long ride for many academic and personal reasons. My friends, family and I are very proud that I've made it through everything and will be graduating this semester.   
What's your favorite memory of your time at Iowa State? 
Hammocking on campus has to be up there. Getting a phone call for my first job interview was also quite a feeling that made all the long studying hours worth it. 
What's your favorite place on campus? 
The courtyard by Black Engineering is probably my favorite place to sit and have lunch when the weather is nice. 
What's your advice for first-year Iowa State engineering students?  
Get involved! I know it can seem cliche, but seriously get involved with engineering/design teams. Courses can only give you so much for projects and hands-on experiences. It's design teams that give you a taste of what being an engineer is like in the real world, where the problems may not be solved by the end of the semester (or at all). Clubs and design teams are also great to meet like-minded people passionate about engineering and doing something with their degree.   
What do you like to do in your free time? 
Reading books, cooking and playing with my puppy!   
What are your plans for after graduation? 
I will be working as a multiphase flow CFD analyst at NASA Glenn Research Center. I will continue work from my previous internship at Glenn validating historical flight data from the Apollo program, and then continuing to support NASA's commercial partners for the upcoming Artemis missions. I am also pursuing a PhD in fluid mechanics in the fall of 2021.