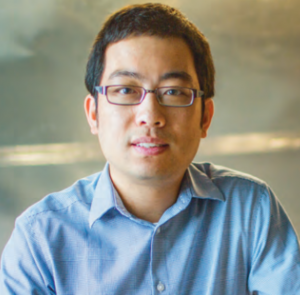 With background in materials science and engineering, biomedical engineering and industrial engineering, Yiliang (Leon) Liao brings a unique and diverse skillset to Iowa State University's Department of Industrial and Manufacturing Systems Engineering (IMSE).
Liao joined IMSE as an associate professor for fall 2020. Prior to coming to Ames, he served as an assistant professor of mechanical engineering at the University of Nevada, Reno. He holds his B.S. in materials science and engineering from the University of Science and Technology of China, a M.S. in biomedical engineering from South Dakota School of Mines and Technology, and a Ph.D. in industrial engineering from Purdue University.
"Advanced manufacturing research and teaching is multidisciplinary, involving knowledge from material science, mechanical engineering, industrial engineering and more," said Liao. "My diverse educational background helps me when collaborating with researchers from other research fields."
At Iowa State, Liao is teaching IE 248: Engineering System Design, Manufacturing Processes and Specification. He has also developed a new course, IE 645X: Laser-based Advanced Manufacturing, which will be offered in the spring.
His research falls within the department's focus area of advanced manufacturing (AM). Specifically, Liao studies advanced manufacturing process innovation and advanced materials processing towards applications in biomedical, energy storage, structural engineering and soft robotics. He utilizes research concepts and methods such as process design and optimization, finite element method, first-principles modeling, and manufacturing simulation.
Liao is currently working on three research projects supported by the National Science Foundation (NSF). The first project aims to develop a new manufacturing process, named photon-enabled atomic drilling, to fabricate holey-graphene frameworks for supercapacitor applications. In the second project, he will develop a novel nanomanufacturing strategy, named confined laser shock detonation, to realize room-temperature, scalable fabrication of nano-diamonds towards the multi-model drug delivery application. For the third project, he will design a new manufacturing methodology to fabricate high-performance smart materials for soft robotics applications.
Going forward, Liao hopes to collaborate with some of the department's other AM researchers such as Matt Frank, Gül Kremer, Frank Peters and Hantang Qin. He also plans to work with researchers from IMSE's operations research and analytics focus area as well as faculty in other departments such as chemical engineering, materials science and engineering, and mechanical engineering. It was these chances for collaboration that attracted him to the position at Iowa State.
"Iowa State University has an excellent reputation in science and engineering. I am very excited to have the opportunity to join IMSE, and look forward to collaborating with ISU's top researchers and scientists," Liao said.
Outside of the classroom and lab, Liao enjoys sports, particularly soccer, tennis and table tennis. He also enjoys classical music and has played the violin for more than two decades and previously worked as a part-time violin instructor. He also stays busy with his family and his two kids: Derek and Elliana.