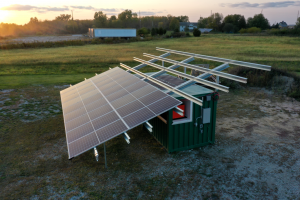 In times of natural disaster or emergency, the Iowa Army National Guard strives to maintain a rapid response time. In such times, access to flexible, mobile power sources is crucial. In order to provide this power, the Electric Power Research Center (EPRC) at Iowa State University has received a $172,000 grant from the Iowa Economic Development Authority to develop a solar power crate to be installed at Camp Dodge in Johnston, Iowa. Funding for the grant is coming from the American Recovery and Reinvestment Act.
So what exactly is a solar power crate? EPRC Director Anne Kimber describes a crate as a portable energy source that could transform disaster response.
"Imagine a green box, a shipping crate, that a truck brings to your neighborhood, a nearby gas station, your city hall, your grocery store or maybe a cell tower after a disaster that led to loss of power and communications," Kimber said. "On the outside of the shipping crate are outlets to charge your cell phones, your car, to plug in electric stoves or supply a food truck, to plug in motors to pump gas for vehicles, to provide air conditioning or heating for a care facility or to pump water out of flooded basements."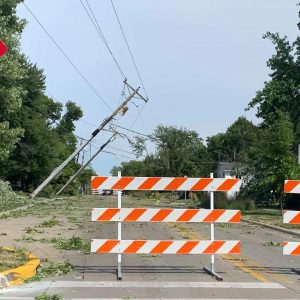 For this project, a variety of people are coming together: From ISU's Department of Electrical and Computer Engineering, Professor Venkataramana Ajjarapu and Assistant Professors Zhaoyu Wang and Hugo Villegas Pico; from ISU's Department of Mechanical Engineering, Assistant Professor Chao Hu; from ISU's Architecture program, Associate Professors Ulrike Passe and Rob Whitehead. These Iowa State faculty members are accompanied by a student senior design team; electrical engineering undergraduate student intern Hoang Dang; and electrical engineering graduate students Jinqiang Liu and Nick David. All of these ISU faculty and students are partnering with SunCrate (Sioux City), PowerFilm Solar (Ames) and the Iowa Army National Guard (Camp Dodge). The project aims to provide easily-transported, flexible power generation and storage within a standard military shipping crate for rapid disaster response and other uses by the guard.
The teams design, construct and deploy a prototype modified, 20-foot shipping power crate. The crate is entirely self-contained with all equipment, metering, data displays and controls to interconnect with other local distributed generation functioning within a microgrid. It also features Supervisory Control and Data Acquisition (SCADA) with real-time displays so that the performance and operating characteristics can be measured and optimized as experience is gained. As part of this project, the teams will evaluate the long-term reliability of battery storage based on early-life, high-precision measurements of charging efficiency.
This innovation is much needed. Recent weather disasters such as the Iowa derecho on Aug. 10, 2020, and hurricanes in the southern United States have shown that conditions can change in an instant. Strong winds and floods in these extreme storms leave thousands of people without power and communications, as well as create hazardous conditions with downed power lines and trees. This solar power crate technology would allow the Iowa Army National Guard to respond more quickly and effectively in these instances. Kimber said the crate has already proven to be effective.
"We had no idea on the morning of Aug. 10, when two of us were in the crate and the sirens went off, that we were about to be in the middle of a derecho," Kimber said. "The next day, we were back at our undamaged crate cooking breakfast, as one of the rare sites in Ames that had electricity."
The crate, and future crates that will be developed, are powered by batteries, which will arrive in the crates fully charged at the time of need. To allow for continuous power, the crates will feature several solar panels, which can be used to recharge the batteries. In most cases, the guard will be in charge of providing transportation and setting up the power crates. Additionally, each power crate will contain a video screen with instructions for assembling the solar panels. Kimber said the technology continues the progression of an exciting trend in renewable and mobile energy.
"This idea, of providing a source of renewable power with energy storage, is gathering more interest as renewable generation and storage get cheaper all time, and the controls to make them 'plug and play' get better, smarter and more reliable," Kimber said. " The mobility aspect is exciting, as we realize that we can provide solutions that help restore power and especially communications to communities."
For more detailed information and photos showcasing the solar power crate, view this presentation created by Kimber for the EPRC.