No day is "just a normal day" in Ludovico Cademartiri's research group. Not when there are so many questions to answer about crop plants using a convergence of materials science and engineering, genetics, predictive phenomics and chemical engineering.
"We are working on many exploratory projects, including answering some fundamental questions about plant communication and challenging established protocols surrounding testing of plants," said Souvik Banerjee, a research group member and graduate student in materials science and engineering.
Soil or not?
Cademartiri's lab is most known for the development of transparent soil. After three and a half years of development, the project is receiving attention from NASA and high impact journals.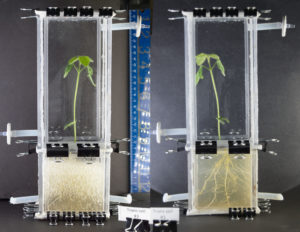 The research team wants to solve the challenge of studying plant roots. The problem with regular soil is that the phenotype of the plant's roots are nearly impossible to study—if the roots are removed from the soil they are damaged and there is no way to see through the soil to see how the roots develop.
Cademartiri, assistant professor of materials science and engineering, and his research team developed transparent soil as an alternative to soil in order to allow researchers to see the development of the roots.
They experienced some challenges to get the formula right — "Plants don't 'like' everything, so we needed to make sure this soil was a really good environment for them to thrive," said Lin Ma, Cademartiri lab researcher and graduate student in materials science and engineering.
The team perfected the formula by using hydrogel beads. Hydrogel comes in many forms, but all of these consist of 99% water. Various type of hydrogel act as an ingredient in Jell-o, contact lenses and many cosmetics. The interior is soft and wet, making it a prime environment for plant growth.
They spherified the material, essentially turning it in to solid droplets. The approach results in the unique advantage that once the container is filled with water, the hydrogel spheres essentially "disappear," making the system transparent and the roots easily observable. The roots grown in plants are extremely similar to those born in other transparent mediums, making them stand out from the rest.
National Science Foundation support
Cademartiri's group is part of Iowa State's Predictive Plant Phenomics (P3) graduate traineeship, a National Science Foundation program in data-driven plant breeding and management improvements.
Recently, Cademartiri's research team won third place in the best poster category at the American Society for Gravitational and Space Research Conference where they proposed their idea of encapsulating bacteria within transparent soil, an idea that will be groundbreaking in the field of materials science and plant phenomics.
"Not only is this soil useful for plant observation purposes, it also allows us to control every aspect of the investigation," Cademartiri said. "This is hard to accomplish in science and will be key to answering the challenges in predictive plant phenomics."