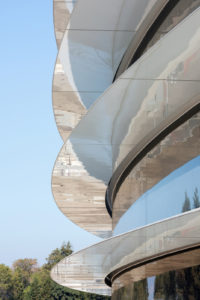 When you are engineering a project for one of the largest and most profitable companies in the world, perfection isn't an option … it's a requirement.
In this episode of Factor Analysis, we dive into conversation with Eric Borchers, a 2005 civil engineering graduate and one of the engineers to work on Apple Park, Apple's global headquarters in Cupertino, California. Borchers takes us inside some of the unique features of the campus and explains the complexities surrounding a project of this size and importance.
Everything about Apple Park … from the spacious interior orchards to the $70 million employee fitness center to the 2.8 million square feet of seamless, curved glass windows … is a testament to Apple's multi-billion-dollar mantra, "Think Different."
"In comparing all of the buildings that I have been in, Apple Park is probably the closest to perfection that you can get in a finished product," says Eric Borchers (2005 civil engineering). "It is really beautiful. The details are very clear and clean."
Borchers is a structural engineer currently working with Meyer Borgman Johnson in Minneapolis. But in 2011, Borchers found himself working for Arup in the company's San Francisco office. The company had taken on Apple Park in Cupertino, California, about a year earlier, and Borchers was assigned to the design of the campus' parking complex, central plant building, transit center and portions of the main building. He represented the structural design team during construction, coordinated with the contractor, made site visits and answered structural questions. Borchers did this construction administration work for the entire main building, parking complex, central plant, transit center and portions of the Steve Jobs Theater and on-site fitness center.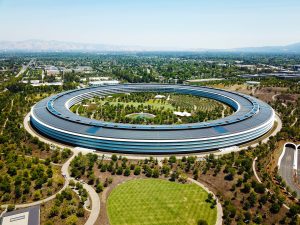 In total, Borchers would work on Apple Park for six years. In that time, he was able to see as much of the complex as any non-Apple employee.
"From a structural perspective, what is unique about the main office building is that it is base-isolated," Borchers says. "It's in a high seismic region close to the San Andreas Fault. The entire building lays on slider bearings. So, even if the ground starts shaking violently with the force of as big an earthquake as you can imagine in that area, these slider bearings are designed to greatly reduce the force of the quake."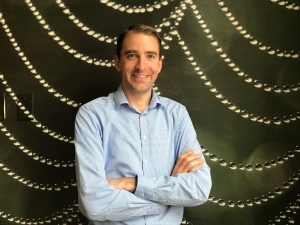 Borchers points out that Apple Park is currently the largest base-isolated building in the world … and this feature is only one unique aspect of the campus.
"The curved glass is one feature that has been noted frequently," Borchers says. "The main office building has the largest panels of curved glass that you have ever seen, and they are the largest in the world. They really are beautiful. You can walk around and you barely see a wall at all, because the joints are so far apart that it feels like the glass is seamless."
Borchers left California in 2017, just prior to Apple Park's September 2017 grand opening. Though the park itself is exclusively accessible to employees, the company encourages people to learn about its mold-breaking campus in another way.
"There is actually a separate visitor center across the street from the main building," Borchers says. "So, you can look across the street and see the campus. There's a whole building that I can go visit to see this project that I worked on. Not many engineers can say that about one of their projects. That's unusual."
Indeed, there is little about this project that could be called usual. It's all a part of the Apple way of doing things, to "think different" at every opportunity, including an engineering opportunity.
"The biggest challenge was striving for perfection," Borchers says. "Apple, as a company, is known world-wide for their products. Apple Park was very much intended to be an expression of the company's values and design ideals."
Announcer
Welcome to Factor Analysis, an in-depth conversation of engineering knowledge from the classroom to the field, and topical issues surrounding work and life from an engineer's viewpoint.
Kate Tindall
Welcome to another episode of Factor Analysis. I'm going to be your host today. I'm Kate Tindall and I am joined by Eric Borchers. Eric, how are you doing?
Eric Borchers
I'm doing well. Thanks.
Kate Tindall
Now remind me, you are a 2005 graduate of the Civil Engineering Program at Iowa State, correct?
Eric Borchers
That's right.
Kate Tindall
Great. Great. We are going to jump right in because I've got a lot of questions to ask you. You were a part of a very interesting project, and I want to get straight down to it. So let's jump right into talking about Apple Park, shall we?
Eric Borchers
Sure.
Kate Tindall
Great. The first question I have for you is how did you first get involved in this project, and maybe if you could, describe what Apple Park is for those folks who are listening who may not be familiar with that construction project.
Eric Borchers
Sure, start out with the description. So, Apple Park is the name of Apple's new headquarters that opened up in 2017, and essentially it's a 2.8 million square foot main office building, shaped like a ring, set in a field of golden green rolling hills with trails and trees and and a separate underground theater for, for product presentations, a fitness center for employees, a number of ancillary buildings, parking structures, etc. So it's a giant campus, kind of set in a former suburban office park location, but really transformed to be a kind of an office oasis in a really natural setting.
Kate Tindall
Which is an interesting way to describe it because I know a lot of people who go to offices every day and I think the word "oasis" wouldn't be the first way they would describe where they go to work. Would you agree?
Eric Borchers
Right, right. But that just kind of popped into my mind right now from thinking about it, you know, for visiting the site, it really is, like a like, it's set apart kind of from the surroundings, it's in a residential neighborhood, but like I said, adjacent to other office parks, that sort of thing, you know, small buildings surrounded by parking lots. So it's very much the opposite of that.
Kate Tindall
How did you first get involved in this project?
Eric Borchers
Well, I got involved after I joined the company, Arup, was a structural engineer for the project. So I joined that company, but three years out of out of graduate school. The company is known for doing a lot of significant projects at large scale works, so about a year after I joined a company, I was assigned to start working on the project which was which was already in progress for I think over a year, before I started.
Kate Tindall
And this was taking part in, remind me which town in, or which city in California?
Eric Borchers
I was working in San Francisco.
Kate Tindall
Okay. Okay. And then Apple Park is?
Eric Borchers
Between San Francisco and San Jose. So that's that's the area that is. It's called Silicon Valley generally. So it's yeah, close to San Francisco, really suburban area.
Kate Tindall
And what was your reaction when you first heard you'd be working on this project?
Eric Borchers
I was excited. Yeah,
Kate Tindall
I bet I bet. I mean, just from describing the project, I could see how anybody would be excited about this particular project site.
Eric Borchers
I'd heard about the project, it was very secretive. And I didn't even know that Arup was working on the project, until I joined it found out and that was really exciting. And then it was about a little less than a year later, that I started working on the projects myself.
Kate Tindall
Okay. So talk about your role in the project, when you actually got your boots on the ground and started working on the, once you found out what what Arup was actually working on.
Eric Borchers
The funny false start, the very first day of work, they said, alright, you're going to work on the foundations for this building. And I though wow, this is great. And then there are some changes and I didn't end up working out at all for a while. So fast forward nine months or so, I did get involved in the project. My first assignment was working in the parking structures, the standalone structures on the south end of the campus which together became about 6000 parking stalls. So pretty serious size to the structures. The design process for the campus was, was very long and seeking perfection. So there are a number of different iterations. So I worked on that for a while. I moved on to working on design of some other ancillary buildings on the campus, central plant building, a standalone transit center and working on design of portions of the main office building, the big ring-shaped building.
Kate Tindall
That is all awesome. I think, like, how many cool job experiences just within one, one place.
Eric Borchers
It's unusual to work on on one project, you know, for so long, I ended up working about six years on it all together. But you're exactly right, there were a number of very different and unique parts of it to work on.
Kate Tindall
And when did they end up finally completing Apple Park? Could you remind me?
Eric Borchers
It was in 2017. And I can't remember the exact date, yeah, we can get to this. I ended up moving away from the Bay Area. Back to the Twin Cities, Minneapolis around 2017. So I just about you know, I kind of just missed any official grand opening. Though I'd been spending the last, you know, few years on site quite a bit while it was under construction.
Kate Tindall
I wonder if, since you were an engineer on the site, maybe you could go back sometime and like, I don't know, get a personal tour. I think that should be a perk of having worked on the site, personally.
Eric Borchers
I would love to do that. Unfortunately, I don't think that that is what's gonna happen.
Kate Tindall
Yeah, it looks like some of the security measures are pretty are pretty tight on that campus
Eric Borchers
It's pretty serious security, however, one very cool aspect of the project, from having worked on it, is that there's actually a separate Visitor's Center, like across the street for people to come, you can go you can go to an Spple Store, you can go to the rooftop and look across the street at the campus and see it so there's there's a whole building that I can go visit just to look at the building that I worked on, which is pretty unusual.
Kate Tindall
Yeah, not every engineer can say that that actually exists for the projects that they work on. You've mentioned several times that this project is very unique. I think we we get that in hearing what the project was like. I want to ask, in your opinion, maybe what was the biggest challenge of working on a project like this?
Eric Borchers
The biggest challenge, just just overall is that striving for perfection. So Apple as a company, you know, has is worldwide, you know, known for their, for their products and product design. And this was this was very much, you know, intended to be an expression of, of the company's values and design ideals. So, you know that that's true, of many buildings where that where, you know, architects are having to have a great vision and have particular requirements, and they go through design iterations. But I would say there's definitely kind of another level on the project of just that iteration and really, really seeking for the very best thing, and I would say, I mean among buildings that I've been in, it's probably the closest that you can come to perfection in terms of the finished product, it's really, really beautiful. You know, the details are there, they're very clear. They're very, very clean.
Kate Tindall
Right. And I think if anybody went on to maybe the internet and looked at photos of the building, they could very much see that goal of trying to perfect the experience of the user in every way possible. So the next question I'm going to ask you, kind of ties into that theme of perfection or aiming for perfection. What is the most unique aspect of Apple park, in your opinion?
Eric Borchers
The most unique aspect, there, there are really so many. There's a number of different kind of firsts or, or, you know, records of this or that and I think the curved glass all around the outside of the building is one that that's, you know, been noted a lot, the largest panels of curved glass and they are beautiful, really, you can walk around and it's like, you don't see that there's any wall there at all. There's just these enormous panels without joints. From a structural perspective, this building is base-isolated. What that means, so this is an a very high seismic area, pretty close to the San Andreas Fault. So the entire building is placed on slider bearings, that essentially when the ground starts shaking, even, even really violent shaking, like the largest probable earthquake that can occur in that area, these slider bearings are designed to just isolate the building, you know, the grounds going to shake, but it greatly reduces the demand that the building sees. So this is a method that is used, not very often, but it's used in many really critical buildings like hospitals or historic structures of great importance. So you know, Apple had a real desire to protect the investment of this building and the people inside of course,
Kate Tindall
Right, right, right. It's a nice building, but we like it when people are able to get out unscathed.
Eric Borchers
Yeah, it's unique in that it is, at least until there may be another airport that, or a hospital that soon maybe or may have surpassed it, but at least at the time, it was the largest building in the world to use this base-isolated technology.
Kate Tindall
I want to ask you this next question, fully prepared for you to answer either way, yes or no, but I want to hear your opinion. Eric, can anything prep you or really prep you for a project like this? Is it an entirely new experience? What are your thoughts on that?
Eric Borchers
I have two answers to that one.
Kate Tindall
Are they yes and no?
Eric Borchers
No, they're yes and yes. So just prior to working on this project, I had actually worked on a, I spent the previous six months working on an even larger building, that was a an airport terminal in the Middle East. Also very nice building. So there, there is some preparation, you know, in in working on a massive project with, you know, with some ambitious goals and and kind of the hard work that goes into that, but without having had that prior experience, so there is preparation and just just all the basics and fundamentals of, of discipline, whatever it is, right. So, so, you know, I had, before joining Arup I'd worked at another company, Rutherford + Chekene, for a few years in San Francisco, working on a number of, you know, medium to large, significant buildings-hospitals, museums, university buildings, that sort of thing. And to some extent, you know, to a large extent it it's a lot of concrete and steel design, and you have you have floor framing and you have columns, you know, foundation, he has some kind of seismic-resisting system. So, you know, there's a lot of similarity between projects at different scales and different types. You know, there are, there are big differences, too.
Kate Tindall
My final question that I want to ask you, and I feel like I'm always obligated to ask this, but I think that you've had a really interesting alumni experience after leaving Iowa State. How did your ISU experience pay off in the long-term?
Eric Borchers
Well, you know, I really got a great foundation, so to speak. With all those basics I just talked about, I mean, the classes I took in statics, mechanical materials, structural analysis, steel and concrete design. These are really used every single day. You know, it's practical knowledge and practical learning that really does reflect, you know, what you're doing as a structural engineer every day. My capstone project senior year was actually a precast concrete parking structure, you know, hypothetical building on Iowa State campus. Essentially, the same basic kind of precast system used on the parking structures at Apple Park.
Kate Tindall
I was gonna say, I think we've heard this story before kind of here.
Eric Borchers
Yeah. I would say my experience was was great. You know, a solid education in all those basics that are fundamental to, to any kind of project, whether you're designing a custom home or you know, a giant office building or something, something of that nature.
Kate Tindall
Absolutely. That's it for this episode of Factor Aanalysis. Thank you, as always for joining us. And Eric, I want to thank you especially for talking to us today about your experience on the construction side of Apple Park.
Eric Borchers
You're very welcome. It's my pleasure.
Kate Tindall
Remember to click subscribe wherever you listen to podcasts, and I'll talk to you again on another episode of Factor Analysis.
Announcer
Factor Analysis is produced by Iowa State University's College of Engineering. For a list of ways to keep up with the college including more podcasts, social media and apps, go to engineering.state.edu. Music by Lee Rosevere and used under Creative Commons license.