Jaclyn Ralfs
Major: Software Eng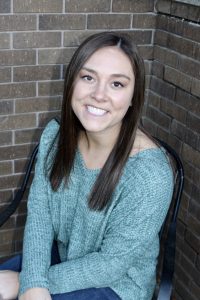 ineering
Minor: General Business
GPA: 3.86
Hometown: Durant, Iowa
Career goal: Overall in my career, I want to be continually challenged and given opportunities to learn. The tech industry is constantly changing and I want a career that keeps up with the newest technologies and their capabilities!
Clubs/activities: Alpha Gamma Delta, Iowa State Women's Club Volleyball Team, Program for Women in Science and Engineering, Dance Marathon
Awards/honors: Dean's List, Tau Beta Pi Engineering Honor Society
Favorite place on campus: Central campus
Why Iowa State: I picked Iowa State because I knew they have a great engineering program that I could enroll in as an undeclared engineer. I didn't know what type of engineering I wanted to declare my freshman year, and this gave me the opportunity to explore a few different majors before deciding on software engineering. My dad and aunt were also Cyclones, and they have shared memories of their collegiate days that drew me to Iowa State.
"My advice for future engineers is to stay involved outside of academics," Jaclyn Ralfs said. "School should be your main focus, but you will learn a lot by joining clubs, attending Iowa State events, and building relationships outside of the classroom as well."
Ralfs is an excellent example of involved – both in and out of the classroom – in her time at Iowa State. As a member of Alpha Gamma Delta Women's Fraternity, she served as Greek Week co-chair in 2019, alumnae relations coordinator in 2017, and philanthropy chair in 2016. She is a member of the Iowa State Women's Club Volleyball team where she served as secretary in 2016. 
Ralfs is a member of the Program for Women in Science and Engineering (WiSE) and was a participant in Iowa State Dance Marathon, a student run organization to raise money for the University of Iowa Stead Family Children's Hospital through an annual philanthropic event. 
She participated in Iowa State University's Global Leadership Program during the summer of 2016 in Stockholm, Sweden. More recently, during the spring of 2018, Ralfs studied at Nanyang Technological University in Singapore where she completed coursework in various computer science and business courses.
Ralfs has also held multiple internships, including a software engineering internship at Kingland Systems during the summer of 2017, a software internship at Cerner Corporation during the summer of 2018 and a cybersecurity internship at PricewaterhouseCoopers (PwC) during the summer of 2019.
After graduation, Ralfs will be moving to Denver, Colorado, to work as a cybersecurity consultant for PwC.