Danielle Ufheil
Majo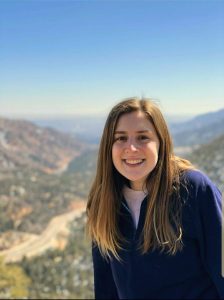 r: Biological Systems Engineering, emphasis in Biorenewable Resources
Minor: Spanish
GPA: 3.59
Hometown: Lake Zurich, Illinois
Career goal: My overall career goal is to be able to apply my passion for sustainability to the development of innovative methods for repurposing and mitigating organic wastes. 
Clubs/activities: Engineers Without Borders, CoE Peer Mentor, Engineers for a Sustainable World
Awards/honors: Alpha Epsilon Honor Society
Favorite place on campus:  Central Campus during the fall
Most influential ISU mentor: Kurt Rosentrator. He offers an abundance of knowledge regarding the application of sustainability to engineering principles, which has completely enhanced my approach of engineering problems. Rosentrater has always been extremely supportive of my nontraditional engineering career goals and has motivated me to pursue my passions for sustainability and international development projects. 
Why Iowa State: I chose ISU because ISU's engineering program doesn't make students immediately declare an engineering major when they enter college. Instead, ISU offered me a way to pursue engineering at my own pace and find the engineering field that best suited me. 
Danielle Ufheil's passion for sustainability and helping others is clear from her campus involvement and work experience.
"In her time in the Department of Agricultural & Biosystems Engineering, Danielle has gotten involved with departmental research projects, college learning communities, and many organizations focused on improving environments for others," said agricultural and biosystems engineering advisor Ben McCarty. "Her dedication to innovation and sustainability make her a highly-coveted employee as she explores many different employers after graduation."
Ufheil has held multiple professional positions including a water conservation internship at the Science Museum of Minnesota with the Minnesota Technical Assistance Program, a value-added bioprocessing research assistantship within Iowa State's Department of Agricultural and Biosystems Engineering and biodiesel and bokashi fermentation internship at Vision to Reality Consultants in Monteverde, Costa Rica. 
As for campus involvement, Ufheil has been a member of Engineers for a Sustainable World, a College of Engineering peer mentor, specifically serving undeclared engineering students, studied abroad in the fall of 2017 in Monteverde, Costa Rica, and served as vice president of communications for Engineers Without Borders.
"My greatest accomplishment at ISU was the culmination of four and a half years as part of Engineers Without Borders, an organization I joined my very first semester at ISU," Ufheil said. "Since becoming involved in EWB, I traveled to our partner community in Ullo, Ghana, to assess for a water project my second year, became vice president of communications my third year, and saw the water distribution system successfully implemented in Ullo during my fourth year."
After graduation, Ufheil is seeking to join the Peace Corps in a community environment promoter position in Paraguay.