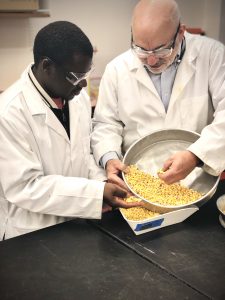 Undergraduate student from Uganda seeks to eradicate maize weevils in developing nations
Partnering with ISU ABE faculty and students, Moses Kalyango traveled 8,000 miles to explore solutions to a centuries-old problem: how can subsistence farmers get rid of maize weevils? For two months, he conducted research with Tom Brumm, Mary and Charles Sukup Global Professor in Food Security and associate director of the Center for Sustainable Rural Livelihoods.
How did you become interested in agricultural and biosystems engineering?
Kalyango: "Back home, I could see grains and food being wasted. I wanted to be an agent in changing my community and country to see how we can preserve food through post-harvest techniques."
How is the information that you are learning at Iowa State important to people back in Uganda?
Kalyango: "Uganda is an agricultural-based country. Almost 70% of our economy comes from agriculture. A large percentage of farmers are subsistence farmers. If we can stop the maize weevil from destroying the crop, we can help those farmers and help the entire country."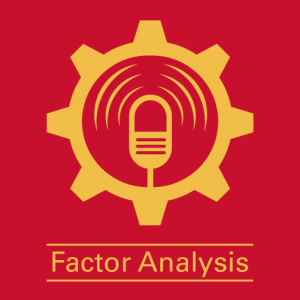 Moses has been working with grain storage processes and ways to kill maize weevils. This includes developing a grain dryer that is low-cost and effective for subsistence farmers. Why is this research so important to a country like Uganda?
Brumm: "Even if Ugandan's dry the grain properly before they put it in storage, they can lose up to 50% of the maize because of maize weevils. The weevils get in, lay their eggs, the pupae and larvae develop and they eat the maize from the inside out. In Iowa, our winter is pretty good at killing bugs. If we have a problem, we fumigate. For a small holder farmer in Uganda, neither of those are options. We're trying to understand how quickly and under what conditions weevils use up oxygen."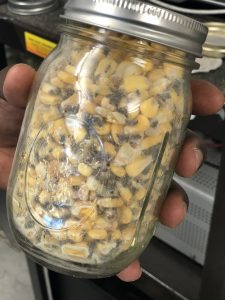 You (Tom Brumm) have been traveling to Uganda every year for the past 10 years to lead the NGO ISU program in Uganda. Iowa State actually has a service-client program where students from Iowa State work with communities in Uganda. Why is a global experience crucial to students' success?
Brumm: "When I was growing up and going to school, my thoughts weren't global. I see the students today, like the students that we take to Uganda and students that come to Iowa State to learn … what fantastically motivated students we have!"
What aspect of Iowa surprised you (Moses Kalyango) most, or what will you remember the most about your time in Iowa?
Kalyango: "I used to read about Iowa. It is one of the greatest producers of corn in the world. I thought, 'my gosh, maybe one day I'll get to see that. One day, I'll be America and I'll get to see those corn rows.' The most surprising part of coming to Iowa was the machinery. I'd seen it in videos, but I'd never gotten to see these large implements in real-life. The combine was so big that it could take 20 rows at a time. And the big farms? Seeing the acres of corn was impressive. This experience is a wonderful, life-changing experience. It's a global experience."