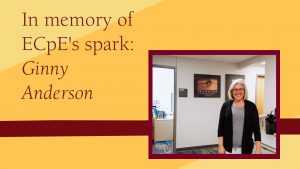 Virginia (Ginny) Anderson was a spark of light always burning, a go-to person for anything in the Iowa State University Department of Electrical and Computer Engineering (ECpE) — forever known as the glue that held everything together.
Ginny passed away on Aug. 6, 2019, from bone cancer, leaving behind a legacy that will never be forgotten. Ginny had passion, enthusiasm, a work ethic unlike any other and a kind and caring heart for anyone who crossed her path. Because of Ginny's nurturing and hardworking energy, an endowed scholarship is in the process of being created in her honor, to continue her legacy.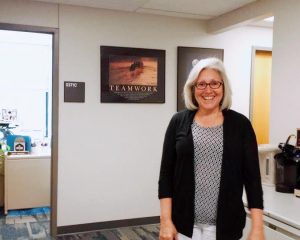 Ginny began her career in ECpE decades ago, experiencing many different positions within the department, and eventually becoming program assistant to Doug Jacobson, University Professor and leader of the new cyber security engineering degree program. For 15 years, Ginny flawlessly planned, organized and carried out hundreds of events for Doug.
"Ginny really was the glue that held everything together here," Doug said. "She was extremely organized, had everything always done. Before she left in February, she already had our whole Cyber Defense Competition (CDC) taking place in April planned and organized, and I had no idea."
Cimone Wright-Hamor, a graduate student at Iowa State studying computer engineering, spent a lot of time with and around Ginny.
"Ginny was basically Doug's backbone. She did a lot of everything," Wright-Hamor said. "From cooking at the CDCs and making sure we had breakfast that wasn't burnt, to making sure we had all the materials for CDCs and any of Doug's events."
Every semester, ECpE hosts multiple CDCs, with hundreds of people attending. Ginny always had them coordinated and never missed a single one. Everything was organized perfectly — even the pancakes and walking tacos she and Doug made for students on mornings before each competition.
"Ginny was at every Cyber Defense Competition until she left. She even let her family know the Cyber Defense Competitions were 'sacred weekends' — nothing else could be planned that weekend," Doug said.
But the CDCs, requiring over 50 Saturdays on campus and weeks upon weeks of planning, were only the tip of the iceberg for Ginny. 
"Ginny filled in everywhere. Pretty much anything that needed to be done, she could do. And she did," Doug said.
Ginny's go-getter personality didn't stop at organizing events and technical planning. She loved all the students in ECpE, and she had a passion for helping them succeed. Ginny always made time to help out a student in need, regardless of the many other obligations she had. But Ginny was also there when everything was just right, just to spend time with the students.
"Ginny and I had a morning routine," Wright-Hamor said. "I would come in every morning, get my oatmeal packet, and put it in a coffee cup. We would sit, I would eat my oatmeal, and we would have tea and just chat, so I got to know her on a personal basis."
The two talked about their personal lives, Wright-Hamor's obstacles as a student and everything in between.
"Ginny was happiest when she was helping someone," Doug said. "She loved helping students navigate what it takes to graduate, especially the students that weren't able to be on campus."
Her devotion to a student's success drew them to her — students often referred to her as their "second mom."
"She was like the mother figure for most CyberCorps students. She would send us regular emails, reminding us of deadlines and telling us how to get everything done. And then she would double check, making sure we actually did stuff," Wright-Hamor said. "She would make sure we had everything we needed and that we weren't going through something emotionally. Ginny was really good at picking up on changes in our behavior."
Doug was well aware of the special presence Ginny had with students.
"It was very common for a student to walk into the area around my office, but not to talk to me. To talk to Ginny, because they related to her and she knew everything," Doug said. "She really was the one that helped them graduate."
Ginny's endless dedication to the success and wellbeing of students in ECpE is just that — endless. Her genuine, caring and driven presence will be reflected in the Ginny Anderson Memorial Scholarship — created by Doug and Iowa State's Information Assurance Center, to help women studying cyber security at Iowa State.  
"She was always very passionate about the happiness of the students — that's part of why I chose a scholarship. This scholarship is endowed — so it'll last forever. Ginny was involved with everything cyber security, so it made sense to focus on cyber security," Doug said. "She has three granddaughters and was always very encouraging of women in the cyber security field, so that's what this scholarship's target is."
Students like Wright-Hamor affirm that Ginny was always supportive of women in the cyber security field.
"Ginny is a big reason I came into cyber security," Wright-Hamor said. "This scholarship represents Ginny well, because she was always such a caring and nurturing person, always trying to make sure everybody had what they needed."
Through this endowed scholarship, Ginny will be remembered forever and will continue to help students succeed, just like she did throughout her lifetime. 
Ginny was known to be humble, never wanting recognition for her outstanding passion and dedication to ECpE. This scholarship allows Ginny to be honored and recognized for her everlasting devotion, not only to the department, but to the students as well. 
"To have somebody that cares on a more personal basis, and isn't just here to get a paycheck, I think that is what made cyber security what it is today — and I think that's why Doug is trying to push so hard to create something for her, to let people know that she's gone, but not gone," Wright-Hamor said. "This is what people will remember her by."
Donations can be made to the Ginny Anderson Memorial Scholarship here.