Spend a few minutes with Andee Beierle and you quickly realize that for her, life in high gear has always been the norm.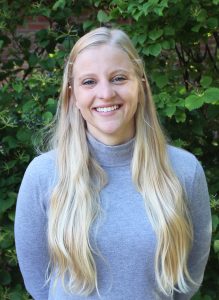 The senior chemical engineering major has spent the last two years pursuing an opportunity that is often reserved for graduate students – working as a researcher in a lab. She's teamed with assistant professor and Black and Veatch Building a World of Difference Faculty Fellow Nigel Reuel in his work with resonant sensors. Before she came to Iowa State her laboratory was the high horsepower, high risk world of dirt track auto racing in various types of cars. Competition and drive are nothing new to her.
So it comes as no surprise to those who know her that Beierle was recently selected for the honor of Future Leaders in Chemical Engineering, a national award symposium for undergraduate researchers hosted by North Carolina State University, October 27-28. Participants from institutions around the nation present their research in the form of soundbites and a poster session. Beierle is one of only 23 students selected for the honor this year (Matthew Burroughs of North Caroline State University, who participated in the 2017 BioMaP REU research program for undergraduates at Iowa State, was a 2018 Future Leaders awardee).
"I will be graduating from Iowa State with my B.S. in December. I plan to go to medical school and would like to become a physician-scientist," says Beierle. "I'm working on applications of resonant sensors in new techniques of wound healing, which fits perfectly with my future career goals in medicine."
Resonant sensors are simple circuits composed of inductive, capacitive, and resistive elements (LCR circuit) that tune the resonator to oscillate current at a specific resonant frequency.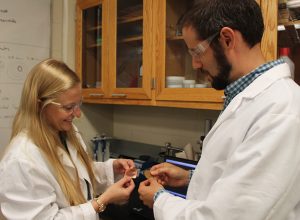 Reuel is a principal investigator of a project with four other Iowa State University professors sponsored by the National Science Foundation (with industrial partner DuPont) to develop flexible sensors for detection of enzymes, biofilms, tissue types and ions (see a previously published story here). Part of that involves wound healing uses, where Beierle is centering her work. "I'm looking at different applications in wound healing that the field is currently lacking," says Beierle. "The abstract I supplied for the Future Leaders in Engineering symposium involves working with ions in this application." The resonant sensors she is working with track infection in, and the healing of, a wound and signal when changes to care need to be made. Her research project is titled "Passive resonant sensors for wireless detection and quantification of ionic compounds in opaque systems."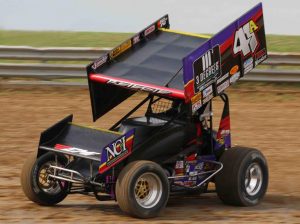 Beierle was born in North Dakota, lived in Florida growing up and began her college work at the University of Alabama-Birmingham. But what brought her to Iowa State as a transfer student involves her other side of life – which most recently involved careening around race tracks at the wheel of fast and dangerous sprint cars, open-wheeled racers that constantly dare drivers to test the limits of physics and their own abilities. It was a form of racing she worked up to after beginning in go-karts at age seven. "I wanted to be based in Iowa to have the best opportunities for racing," she explained. "Some of the best tracks for my form of racing, like the Knoxville Raceway, are here." In a summer 2018 news release she said, "I have racing goals and life goals and I'm working on both this summer. School will leave me very little time for racing, but I love to race and we will get a dozen or more shows in this year." Her father Scott has been active in racing as a car owner, and was the guiding force in her racing ventures.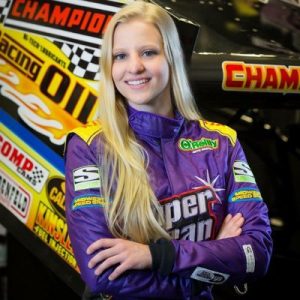 Now, in 2019, her classroom and research work and applying to medical schools have indeed forced her to put racing aside. But, she says, "The sport has definitely helped me with everything I do in life." It has helped me to be strong and independent." And, if she has her way, she may one day be back in the racing world in a role that incorporates her medical plans. "I would like to become an on-site physician at high profile sprint car racing events," she says. "Someone who could respond immediately to help stabilize anyone seriously injured. That's not something that type of racing usually has."
For now, it will be off to North Carolina to enjoy two days of presentations, networking and continuing to make a name for herself. "I am very happy to see Andee recognized for her hard work in chemical engineering classwork and balancing this with demonstrated research progress and extracurricular pursuits," says Reuel.  "I have no doubt that she will become a leader in the field."
Her race in chemical and biological engineering is continuing to gain speed.