Ryan Arndorfer has joined the Department of Chemical and Biological Engineering team as a laboratory and teaching coordinator.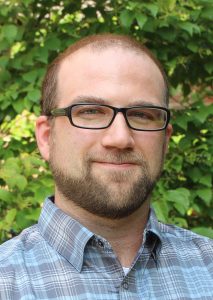 He joins colleague Sarah Beckman, who was hired in early 2019. They will work together handling many important and ever-expanding teaching and research laboratory-related duties in the department, including managing and maintaining equipment, procuring new equipment (especially in shared research facilities and in the undergraduate teaching labs); assisting with graduate teaching assistant trainings, and overseeing lab safety for students and faculty. Arndorfer will also assist with management of spaces in Sweeney Hall.
"We are delighted to have Ryan join the CBE team to help us with our various laboratory activities," says Andrew Hillier, Reginald R. Baxter Endowed Department Chair.
Ryan obtained a Master's Degree in genetics from Iowa State University this past summer and he and his wife have just welcomed a baby boy to their family.
Arndorfer was raised in southern Iowa and is a six-year U.S. Air Force veteran, where he worked in computer network systems and was stationed in Germany, Colorado and New Mexico. He enjoys working with electronics as a hobby.