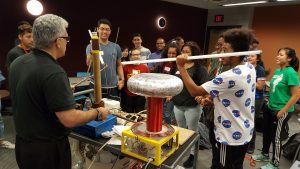 This summer marked the 7th cohort of APEXE, or the Academic Program for EXcellence for Engineers. APEXE  gives incoming Iowa State engineering students the opportunity to experience the life of a Cyclone Engineer – and to increase the success rate of multicultural, first-year engineering students. APEXE is a component of the university-wide APEX program and is a collaboration between the College of Engineering and the Dean of Students Multicultural Student Affairs Office.
APEXE  was launched in the College of Engineering in 2013. In 2018, the program expanded to include a new research experience in real-world applications of engineering under the mentorship and guidance of faculty, post-doctoral students and graduate students.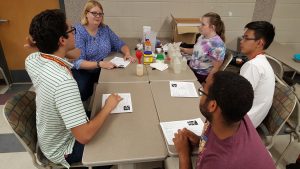 APEXE scholars worked for 15 hours a week in the lab, advancing their skills that will help them succeed in their engineering studies and expose them to opportunities to encourage future participation in research and consideration of graduate school. In addition, scholars took Iowa State summer courses, participated in departmental hands-on workshops, visited industry partners, engaged with engineering alumni, and gained access to various university resources to aid in their retention and success as incoming students.
"APEXE  is a unique experience that gives students a peek at what they will experience here in the College of Engineering. Scholars in this program had the opportunity to network with faculty and staff members, meet fellow students and contribute to innovative research projects. This program both pushes students out of their comfort zone and provides tailored opportunities and support so students can build their self-efficacy and know they can achieve whatever they put their mind to," said LeQuetia Ancar, assistant director of engineering student services and coordinator of APEXE.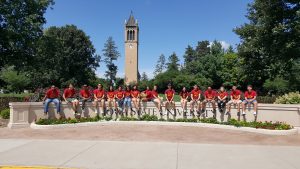 Participants and research mentors in this year's APEXE program were:
Edwin Bonefont, working with research mentors Nicole Hashemi, associate professor in mechanical engineering
Andre Bryan, working with research mentors Azadeh Sheidaei, assistant professor in aerospace engineering, and Mohammad Hashemi, graduate student in aerospace engineering
Julian Canabal, working with research mentors Cheng Huang, assistant professor in electrical and computer engineering, and Junyao Tang, graduate student in electrical and computer engineering
Aden Harzman, working with research mentors Vikram Dalal, Anson Marston Distinguished Professor in electrical and computer engineering, Ranjith Kottokkaran

,

postdoctoral research associate, and Rabindra Bhattarai, graduate student in physics and astronomy
Jared Hayashi, working with research mentors Behrouz Shafei, assistant professor in civil, construction and environmental engineering, and Weizhuo Shi, graduate student in civil, construction and environmental engineering
Reyna Hernandez Martinez, working with research mentor Namrata Vaswani, professor in electrical and computer engineering
Lincoln Khongmaly, working with research mentors Simanta Mitra, senior lecturer in computer science, Gurpur Prabhu, associate professor in computer science, Souradeep Bhowmik, graduate student in computer science, and Saveri Pal, graduate student in aerospace engineering
Iluda Ko, working with research mentors Behrouz Shafei, assistant professor in civil, construction and environmental engineering, and Weizhuo Shi, graduate student in civil, construction and environmental engineering
Tiaunna Little, working with research mentors Alice Alipour, assistant professor in civil, construction and environmental engineering, and Benjamin Lichty, graduate student in civil, construction and environmental engineering
Sharice Locke, working with research mentor Steve Holland, associate professor in aerospace engineering
Sydney Mier, working with research mentors Jaime Juarez, assistant professor in mechanical engineering, and Diwakar Awate, graduate student in mechanical engineering
Faith Moss, working with research mentors Pranav Shrotriya, professor in mechanical engineering, and Faez Qahtani, graduate student in mechanical engineering
Shantal Rincon, working with research mentors Alice Allipour, assistant professor in civil, construction and environmental engineering, and Benjamin Lichty, graduate student in civil, construction and environmental engineering
Bryson Rivers, working with research mentors Sriram Sundararajan, Associate Dean for Academic Affairs in the College of Engineering and professor in mechanical engineering,  and Derek White, graduate student in mechanical engineering
Samuel Rosette, working with research mentors Cheng Huang, assistant professor in electrical and computer engineering, and Junyao Tang, graduate student in electrical and computer engineering
Sarah Wick, working with research mentors Joe Zambreno, professor in electrical and computer engineering, and Clinton Young, graduate student in electrical and computer engineering
Britney Yu, working with research mentors Simanta Mitra, senior lecturer in computer science, Gurpur Prabhu, associate professor in computer science, Souradeep Bhowmik, graduate student in computer science, and Saveri Pal, graduate student in aerospace engineering