Many students from across the nation come to Iowa State University during the summer to get hands-on research experience with ISU's top faculty and facilities in Research Experience for Undergraduates programs (REUs).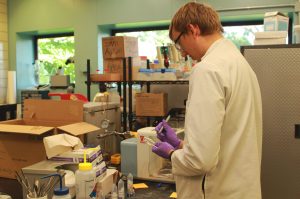 Peter Meyer, senior in chemical and biological engineering at Colorado State University, has been participating in the Center for Bioplastics and Biocomposites (CB2) REU this summer.
Meyer's research project is bioenhancing nylon with bio-renewable feedstock to try and make less of a carbon footprint.
"Nylon has good mechanical properties," said Meyer. "It can be used in many other things. When thinking of nylon, many people just think of nylon stockings, but did you know that large parts of your car are made of nylon?"
Meyer said the most exciting thing he has learned is that research results showed significant improvement in the nylon's mechanical properties.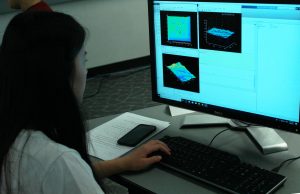 Lara Chunko, sophomore in computer science at the University of Colorado Boulder, has been taking part in the Summer Program for Interdisciplinary Research and Education – Emerging Interface Technologies (SPIRE-EIT) REU.
"You learn so much more than research in this program. Everyone is there to support you," said Chunko. "We're a tight knit community with people who are always there for you. The resources are unlimited and there are so many mentors to learn from. Being able to learn industry programs is going to be great when I go to the workforce."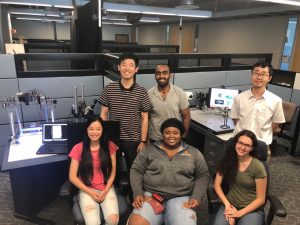 "This program is absolutely amazing. It really opened my eyes about what I want to do in the future," said Syema Ailia, junior in computer science at Northeastern Illinois University who is participating in the SPIRE-EIT REU. "I have decided to attend graduate school because of this program."
Ailia chose to attend this REU because one of her professors is an Iowa State alumna and had recommended Iowa State to her.
"This summer I have been working on a more effective way to test and help improve unmanned aircraft systems (UAS)," said Titilayo Fasoro, senior in aerospace engineering at the Illinois Institute of Technology.
Fasoro has been taking part in the Launching Aerospace's Underrepresented Students into the Next Chapter-Unmanned Aerial Systems (LAUNCH-UAS) REU.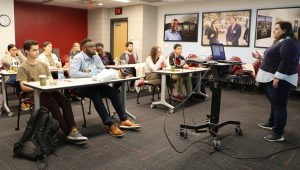 "One of my favorite parts of this summer was working with top faculty members like Dae-Young Lee," said Fasoro. "This program gave me a great sense of what graduate school will be like."
Ravonte Campbell, junior in aerospace engineering at Virginia Tech, has been participating in the LAUNCH-UAS REU.
"I have been working on looking into the onboarding process for new employees integrating into the job force. I want to see if there are any discrepancies with this process with different companies," said Campbell. "One of the most interesting things I have gotten to learn this summer is how different companies work with their employees."