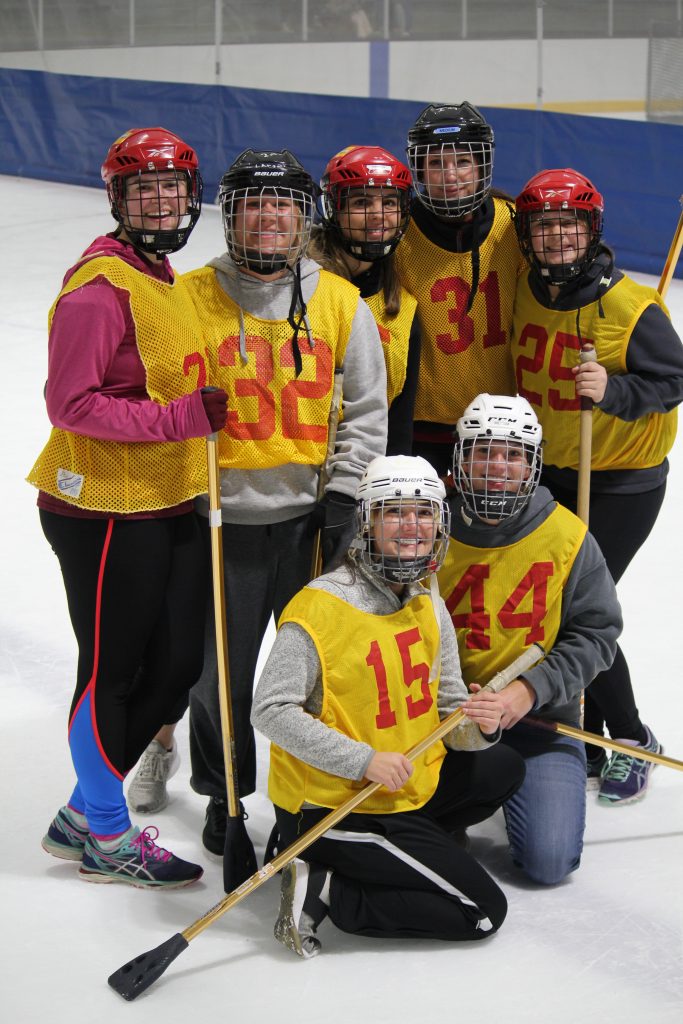 Three industrial engineering students were part of Iowa State's champion intramural broomball team which nabbed the title last month.
Those students were Audrey Fyock, a student in the concurrent B.S. in IE / MBA program; Courtney Middelkoop, a first year student in the IE masters program; and Ashley Swift, a student in the concurrent B.S. and M.S. in IE program.
For those unfamiliar with the unique sport, Middelkoop offers a succinct explanation.
"Broomball is basically hockey but without ice skates, a hockey stick and a hockey puck. You wear your normal shoes and hit a little soccer ball with a broom-like stick. It's fun," she said.
Middelkoop earned her B.S. in IE from Iowa State and was part of the Cyclones gymnastics team as an undergraduate. She was also on the track and diving teams as a high school student in Richardson, Texas. She said her father was an industrial engineer and that he influenced her decision to study IE.
"When he would come home from work, he would always tell me about the things he did. By the time I was deciding what to study, IE was familiar to me and it made sense," she said.
Middelkoop plans to complete her degree in fall 2019 and after graduation hopes to use her IE skills to pursue a career in the sports industry, focusing on improving the manufacturing side of equipment and human performance interaction with the equipment.
The broomball team won five-straight games en route to the championship, and clenched the title with a 2-1 victory. Fyock said that many of the team members did not know each other prior to this season and that for many of them this was there first time playing the sport.
"We had a lot to learn in the first few games. With that, we still had good chemistry. Three of us were IEs and the rest of the team was studying a STEM major. This helped us strategically think about our game plan for each game: who played what position, how we handled substitutions, etcetera."
Swift grew up in Bondurant, Iowa and her decision to attend Iowa State was influenced by her parents, both of whom are ISU grads, as well as her desire to be part of the Iowa State University Cyclone Football 'Varsity' Marching Band
"Iowa State stuck out to me because of its quality engineering program and its well-respected and unique marching band. I chose to study industrial engineering because I have always had a passion for math and loved the idea of being able to use my interests and ideas to make individuals' lives safer or simpler," she said.
In high school she was active in marching band and also ran cross country and played soccer, which she said has parallels to broomball.
"I understood positioning and could translate a lot of that sport to broomball."
She plans to graduate in May of 2019 and hopes to get a job with a manufacturing company in Iowa after that.
After winning the championship, Fyock described her feelings as "jubilation."
"I jumped up and down," she said. "Very carefully, though, because I didn't want to fall down on the ice."
She grew up in Creston, Iowa and said she was "born to be a Cyclone."
"My dad went to Iowa State, so we would always root for the football and basketball teams growing up, occasionally coming to a few games. I just always knew ISU was where I needed to be, without ever taking a tour or anything," she said.
Much like her teammates, Fyock was an active student-athlete in high school participating in tennis, volleyball, softball and basketball. Since coming to college she has added badminton, golf, and pickle ball to her sporting repertoire.
She came to Ames as an undecided engineering major but soon selected IE because of the broad career opportunities it offers. She plans to complete her studies in the spring and hopes to pursue a career in either the athletic or healthcare industries after graduation.
"Thanks for a great five years," said. "It's been the best time of my life."