The holiday spirit – and the spirit of Iowa State's Department of Chemical and Biological Engineering – were both alive and well in "It's A Wonderful Life," a live radio play presented by Iowa State's Department of Music and Theatre at Fisher Theater.
Three individuals in the company had ties to CBE, and represent three generations of department involvement:
Department professor emeritus Ken Jolls served as the piano accompanist for the production.
The father of actor Rachel Ward (who played the role of Lana Sherwood) is Dave Ward, who is a 1979 ISU chemical engineering alumnus, and was taught by Jolls (Rachel Ward is an ISU freshman majoring in performance art and journalism).
The narrator of show was Maxfield (Max) Coenen, who is a freshman chemical and biological engineering student.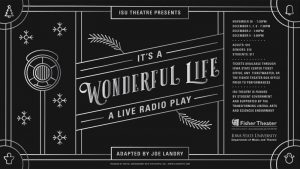 In addition to a long career in chemical engineering research and academia, Jolls has also enjoyed a 60-year musical career dating to the mid-1950s when he earned a music degree from Duke University and toured Europe with a dance band. He has arranged, lectured and performed in many musical styles and is highly accomplished on vibraphone. He led many combos in Ames and central Iowa. In 2010, he was inducted into the Des Moines Community Jazz Center Hall of Fame. Jolls continues to play regularly at Chocolaterie Stam in Ames on weekends.