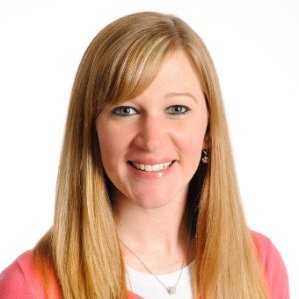 Iowa State University Alumni Association (ISUAA) Board of Directors Chair Nicole Schmidt answers questions from engineering students concerning professional goals and work-life balance
Note: Earlier this month, students from Iowa State University's College of Engineering (ISU CoE) submitted questions for Nicole Schmidt, ISU engineering alumna and chair of the ISUAA Board of Directors. Questions could be about any topic, from Schmidt's career experience to her ISU adventure to her time as chair of the ISUAA Board of Directors. Her answers are below, in quotes. This article is part of a series of stories for Women's History Month. To learn about other outstanding female engineers from Iowa State, click here.
Why did you choose Iowa State, and why would you recommend the ISU engineering experience to others?
"I chose Iowa State University because it felt like home. The people that I met throughout my visits, the success of the construction engineering program, the percentage of students who came out with full-time jobs, and the collaboration/support systems that were offered helped cement my decision. Last, but not least, it was a bonus that my dad and grandpa both graduated from ISU. Therefore, I could carry on the legacy."
"I was highly encouraged to get into a learning community. This was, hands-down, the most important thing I did at ISU. In fact, I joined two – Women in Science and Engineering (WiSE) and the Cornerstone Learning Community for construction engineers. These communities not only helped me find study partners for classes, but also helped me develop leadership skills and, most importantly, establish lifelong friends and leadership skills."
What have you learned since graduating that you wish you had learned in school?
"Several of these items you can learn, or start to learn, in school and are important to your success.
• Dealing with different personalities only increases as you progress in your career.
• Learning how to approach individuals differently to enable them to achieve a common outcome is important to becoming a great leader. Teaching them to understand the "why" behind each task is of upmost importance, along with outlining clear expectations.
• When looking at your schoolwork, embrace the process and collaboration on the different assignments. Processes are there for a reason. Seek to grasp the full understanding rather than going through the motions.
• Don't be afraid to ask questions. No question is stupid.
• Relationships are key in most industries. Being a person of your word and walking the talk goes a long way."
What activities do you recommend to further develop personal growth?
"First, when you start a new job, learn all you can about the company. The more you understand how each role plays an integral part in an organization, the more well-rounded individual and leader you will be. Find a mentor or accountability partner – this doesn't have to be at your place of work nor in your industry. Get involved in one professional activity and one personal activity (this could be physical, spiritual or emotional). Have a 360 review done on you (where your supervisor, direct reports and other co-workers all evaluate you). If you're a reader, read some personal growth books. If you're more of a conversationalist, meet with people you consider to be successful or consult with a professional development coach."
What advice do you have for a new graduate when it comes to establishing a good work-life balance?
"It's ok to say, 'no.' Keep work at work and home at home (meaning don't take work home). This is especially challenging for me right now. I am a mother to two young children and chair of the ISUAA Board of Directors. I have to make sure I am being responsive to all parties. To maintain responsibilities like this, set and keep realistic expectations with co-workers and supervisors to ensure open communication. Set aside time daily for down time, to read or learn something new. Be sure to take your vacations, no matter how much you have, and don't work through them. Letting go of technology and stepping away for a period of time is a good thing. Enjoy the moments you have with family and friends."

What made you come back to be on the ISUAA Board of Directors, and what has been your favorite part about it?
"A call from a civil engineering Ph.D. student that I met in my final semester during my undergraduate studies, Tim Becker, helped nudge me to apply. I had known about the ISUAA Board of Directors through my involvement with the Student Alumni Leadership Council (SALC) and Young Alumni Council (YAC); however, I hadn't realized that a young alum, such as myself, could apply. I am very grateful that Tim made that call and that my husband, Bryan (also an ISU ConE alum, B.S. 2008) supported me in the adventure. The most rewarding part of being a part of the ISUAA Board of Directors is working with such talented, gifted, smart and passionate individuals, both at the ISUAA and those who sit on the board. It is truly an honor and a privilege to work with all of them and serve all ISU alumni and friends. I've made memories and friendships that I would have never made before, had I not applied."
---
Nicole Schmidt earned her bachelor's degree in construction engineering in 2009, followed by her master's degree in civil engineering in 2013. An outstanding professional, Schmidt is a project engineer for Turner Construction Company. She has been actively involved in many Iowa State alumni groups, including her service as a founding member of ISU Civil, Construction and Environmental Engineering Graduates Of the Last Decade (GOLD). She currently chairs the ISUAA Board of Directors. Outside of her many responsibilities, she finds joy in spending quality time with her family. Read more about Schmidt in this recent article, "Engineering alumna chosen to chair Iowa State University Alumni Association Board of Directors." Follow the achievements of alumni, like Nicole, by following ISU CCEE on Facebook, Twitter and LinkedIn (search Iowa State University Civil, Construction and Environmental Engineering and ISUConE).