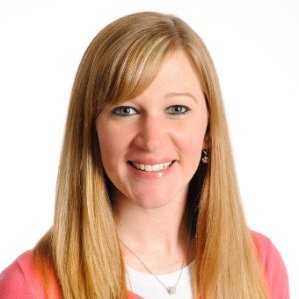 Nicole Schmidt (B.S.ConE 2009, M.S.CE 2013) assumes responsibilities as chair, shares advice for getting involved
On May 19, Nicole Schmidt officially accepted the chair position for the Iowa State University Alumni Association (ISUAA) Board of Directors. The ISUAA recognized Schmidt during the 2017 ISUAA Annual Meeting, held in concurrence with the 2017 ISUAA Inspiration Awards Reception. The board is made up of 20 elected members and four appointed voting members, with each director serving a four-year term. Events were hosted at the ISU Alumni Center.
ExCYtement in store
For the past five years, Schmidt has sat on the ISUAA Board of Directors. In her new position as chair, Schmidt is looking forward to a variety of initiatives. One of those recent projects is the promotion of #CyclonesEverywhere, an ISUAA hashtag campaign communicating the achievements and exciting ventures of Cyclone alumni worldwide.
Her résumé lists contributions to her home department of civil, construction and environmental engineering (CCEE), as well as involvement with alumni outreach at the university level. Within ISU CCEE, she is a founding member of the alumni group CCEE GOLD (Graduates of the Last Decade). Schmidt is also a pro when it comes to balancing responsibilities. She maintains a successful career as a project engineer for Turner Construction Company and finds room for quality time with her family.
Driving force
What keeps this alum giving back to ISU?
"I have a huge passion for Iowa State, and I love what [Iowa State] is doing across the United States," Schmidt said.
That passion comes from experience. When Schmidt was living in Kansas City after graduation, alumni events kept her in touch with ISU. And when she returned to Iowa, she brought back a sense of how alumni involvement could foster community.
Top tip? Get involved!
When it comes to finding ways to get involved at ISU, Schmidt encourages alums and students to find their passion.
"After graduation, I just kept going," she said. "I looked at how I could get involved with an Iowa State club. I helped organize events. I kept in touch with my professors at Iowa State University."
Though she admits to jumping right into exciting leadership opportunities, Schmidt recognizes that this might not be everyone's style. For those who are interested in taking things a little slower, she suggests keeping in contact with ISU faculty, staff and alums through email or even through a yearly meeting.
"Maintain contact with people that you enjoy talking with or with people that are in certain areas that you want to touch base with," she said.
---
Interested in getting involved as an ISU CCEE alum? Join CCEE GOLD! Contact Jean Dubberke, ISU CCEE Outreach Coordinator, by emailing jeand@iastate.edu or by calling (515) 294-5105. You can stay connected on-line by following us on Facebook, Twitter and LinkedIn (Iowa State University Civil, Construction and Environmental Engineering and ISUConE).