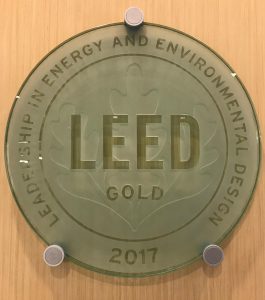 In early February, a large medallion was installed in the Sukup atrium. This engraved glass medallion recognizes the gold certification in the Leadership in Energy and Environmental Design (LEED) program of the U.S. Green Building council for the construction of Sukup and Elings halls.
From Inside Iowa State on March 30, 2017 by Anne Krapfl
Sukup and Elings halls, home to the agricultural and biosystems engineering department and phase two of the Biorenewables Complex, are the university's 13th project in 10 years to receive LEED certification. All but three of those achieved gold or platinum levels for their environmentally sensitive design, construction, operations and maintenance.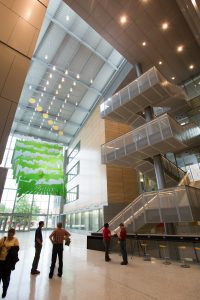 "Sukup and Elings continue what we started with the [Biorenewables Laboratory] and show off the best of everything we have learned to date," said Kerry Dixon, project manager with facilities planning and management and ISU's LEED-accredited professional.
She noted that evolutions in the design and construction industries "actually make this easier to do" now than 10 years ago. For example, building materials such as drywall, ceiling tiles and carpet that contain recycled content — which LEED smiles upon – have become less expensive than products made from raw materials. And nontoxic paints that used to be sold only by national paint retailers now are common at stores such as Lowe's and Target.
LEED measures achievements in five categories and awards a credit total. Extra credits are awarded for exemplary achievements in any of the five. In the Sukup-Elings submission, five of the 43 points are extra credit.
The project received all points possible in the water efficiency category for its landscaping selections; absence of an outdoor irrigation system; and dual-flush toilets and low-flow urinals, sinks and showerheads. Together, these choices reduce potable water use by 89 percent from the state building codes.
Other credit-earning features of the buildings are:
Office window interior light shelves (positioned above a window blind), that bounce daylight across the room and lessen or eliminate the need for overhead lights.
A four-story atrium with no parallel walls, designed to diffuse noise and be acoustically "dead"
Sidewalks and a west loading dock area made from noncolored, reflective concrete that helps keep the site cooler
Two roof sections contain vegetation, with the rest of the roof surfaces white to reflect light and stay cooler
Carpet, composite wood, paints, adhesives and sealants that emit low levels of toxins and assure indoor air quality
Occupants' access to public transportation, bicycle storage and changing rooms
Availability of community services such as restaurants, post office, fire department, library within one-half mile
LEED projects at Iowa's regent universities
| | | |
| --- | --- | --- |
| | Registered* | Certified |
| Iowa State | 25 | 13 |
| U of Northern Iowa | 4 | 2 |
| U of Iowa | 14 | 8 |
| U of Iowa Hospitals and Clinics | 6 | 4 |
| Total | 49 | 27 |
*Registering a project with the U.S. Green Building Council shows intent to receive LEED certification, whether the application ultimately is successful or not. The figures include projects in design or construction phases and certified projects.