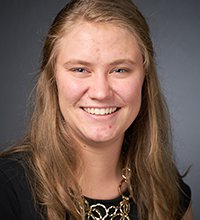 Natalie Hanson, a senior in biological systems engineering from LaPorte City, Iowa, has been honored with the 2018 Wallace E. Barron All-University Senior Award.
The Wallace E. Barron Award was established by the Iowa State University Alumni Association (ISUAA) 50 years ago to recognize seniors who "display high character, outstanding achievement in academics and university and community activities and promise for continuing these exemplary qualities as alumni."
"Natalie is an outstanding senior who has demonstrated exceptional leadership inside and outside of the classroom during her years at Iowa State," said Kristin Chapman, assistant director of campus visits and Hanson's Student Admissions Representative (STARS) leader.
In addition to earning a 3.99 grade point average in the classroom, Hanson has been an active leader outside the classroom at Iowa State. She has been involved in the Honors Program, Iowa State's Intercollegiate Meat Judging Team, Alpha Gamma Delta Women's Fraternity, STARS, and the American Society of Agricultural and Biological Engineers, and she has held many leadership positions within those organizations.
"Her dedication, work ethic, great attitude and positive outlook will take her places and serve her well," Chapman said.
Hanson has also participated in three internships and one co-op experience in Nebraska, Missouri, Taiwan and Ohio.
"A review of her resume and leadership experiences is one of the most impressive of any student at this university," said Sherrlyn Olsen, animal science lecturer and Meat Judging Team coach. "This success documents that she strives to do her very best at any endeavor in which she is involved."
Hanson will be using her major in biological systems engineering and minor in meat science at Cargill, Incorporated in Waco, Texas upon her graduation in May, according to Olsen.
"A tremendous young woman gaining excellent experiences in the agricultural industry, Natalie is an outstanding recipient of this award and will uphold the attributes that this very prestigious award represents," said Olsen. "She will continue to be a proud Cyclone wearing cardinal and gold as she promotes the excellent academics and opportunities that our great university provides to all students as they earn the best education offered by a university."
The Barron Award is named after Wallace E. "Red" Barron, Iowa State University Class of 1928, who served as the director of alumni affairs from 1937 to 1968. Since the award was established, 181 awardees have been chosen, and many remain involved with Iowa State in numerous ways, according to Katie Lickteig, ISUAA director of constituent engagement.
Each Barron Award recipient will be featured in the ISUAA's VISIONS magazine, will be honored at the ISUAA Young Alumni Council luncheon in April and will receive an official Iowa State ring.
To view a full list of Wallace E. Barron Award recipients, go to www.isualum.org/barron.