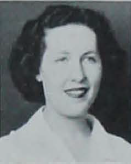 This article is part of a series of stories for Women's History Month. To learn about other pioneering female engineers from Iowa State, click here.
Eloise Heckert, a 1946 graduate of mechanical engineering, was the first female member of Iowa State's chapter of Pi Tau Sigma, the honorary mechanical engineering fraternity, at a time when few women pursued studies in the traditionally male-dominated field.
Heckert was born around 1925. She grew up in Red Oak and as a freshman in high school competed in the 1939 University of Iowa "Brain Derby" in Iowa City, taking first place in the Latin I test. She also took third place in ninth grade algebra, fifth in general science, and eighth in ninth grade English correctness.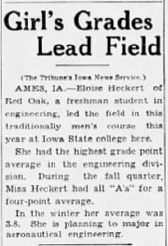 She came into Iowa State in the fall of 1942 and "had the highest grade point average in the engineering division" in the "traditionally men's course" at the end of her freshman year, according to an article published in the Des Moines Tribune. She earned all A's and a four-point average during the fall 1942 quarter, and a 3.8 GPA during the winter quarter.
In addition to her course work, she was actively involved in various student organizations on campus. She was the first female member of Iowa State's chapter of Pi Tau Sigma, the honorary mechanical engineering fraternity. She was also a member of Kappa Delta sorority and Phi Kappa Phi, a national honorary scholastic fraternity.
She served as treasurer for the Iowa State chapter of the American Society of Mechanical Engineers (ASME), was on the board for the Women's Athletic Association (WAA), and was a member of the campus Red Cross unit. She was also on the editorial staff for Iowa State's yearbook, The Bomb, and served as national advertising manager for the Iowa State Daily student newspaper.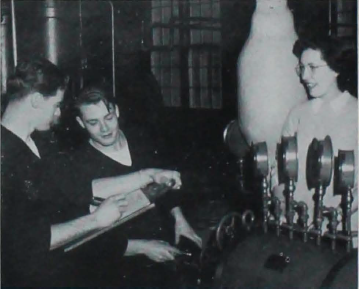 Heckert graduated with her BS in ME in 1946 and went on to work as a junior engineer for Kimberly-Clark Corporation in Neenah, Wisc. On Feb. 8, 1947 she married fellow Red Oak native Arthur Lantz who served four years in the aviation division of the Navy during the Alaskan and Pacific theaters of World War II. The couple had four children: Enid, Eric, Annabel, and Greta. Enid earned a degree in Family and Consumer Science Education and Studies from Iowa State while Eric studied agricultural engineering.
The Lantz's owned and operated a farm near Red Oak. Eloise was a 4-H leader and taught adult education courses at Southwestern Community College in Red Oak. She was also a member of Hawthorne United Methodist Church and the United Methodist Women. Eloise (Heckert) Lantz passed away in 1995, at the age of 70.