The Department of Chemical and Biological Engineering is saddened to announce the passing of Dr. Thomas (Tom) Wheelock, University Professor Emeritus, who died February 3 at the age of 97.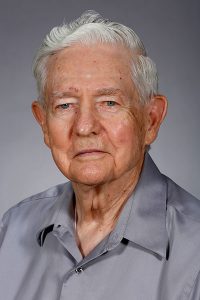 Wheelock came to Iowa State University (then Iowa State College) as an undergraduate student in 1943 as part of the U.S. Navy's V-12 College Training Program. After active duty service in the Navy, Tom returned to Iowa State to continue his studies in chemical engineering. He graduated with a B.S. in 1949. After graduation he was employed at Westvaco Chemical Company in Charleston, WV.
Tom returned to Iowa State in 1954 to pursue a graduate degree. He received a Ph.D. in chemical engineering in 1958 and then joined the department as an assistant professor. He taught, conducted research and mentored graduate students for more than 40 years. He was named professor in 1964 and elevated to university professor in 1994.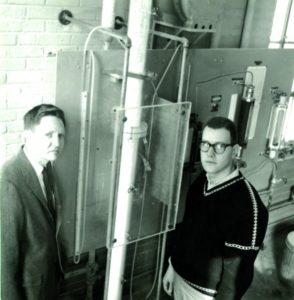 Wheelock's research at Iowa State focused on processes for cleaning and utilizing coal; however, his doctoral dissertation and early research laid the foundation for a new process capable of producing sulfur dioxide from either natural or waste materials composed largely of calcium sulfate. Such a process made it possible to use an alternative raw material for the production of sulfuric acid, which had been largely from elemental sulfur. The work was supported mostly by private industry and led eventually to eight domestic and foreign patents and a dozen journal articles.
Wheelock is also known for research involving the fluidization of sticky materials in powders, and one project funded by a grant from the U.S. Department of Agriculture led to significant improvement in the processing of materials such as cereal starches and flours.
He was a key figure in a 1970s Iowa State University research project to remove sulfur from Iowa coal in an effort to assist the struggling Iowa coal mining industry. In the mid-1990s he was part of a research team funded by the U.S. Department of Energy to develop a reusable calcium-based sorbent for desulfurizing hot coal gas. Several patents were awarded as a result of these efforts.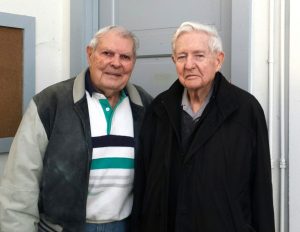 Special honors Wheelock received while at Iowa State include the Chemical Engineering Department's teaching award in 1961; a Faculty Citation from the Iowa State University Alumni Association in 1974; election as a fellow of the American Institute of Chemical Engineers in 1987; election as a fellow of the Iowa Academy of Science in 1988; the Governor's Science Medal for Science Achievement in 1991; and the Margaret Ellen White Graduate Faculty Award in 1999.
Funeral arrangements are pending with Adams Funeral Home, Ames, Iowa. His full obituary may be viewed, and online condolences left, on the mortuary web site. In lieu of flowers, memorial gifts may be given to the William Bliss Cancer Center at Mary Greeley Medical Center or Collegiate Presbyterian Church.
The department recently mourned the loss of another emeritus professor, George Burnet, who passed away January 13.