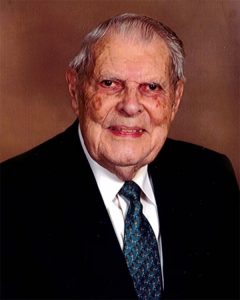 A pillar in the history of the Department of Chemical and Biological Engineering has passed away. George Burnet V, who progressed from student to faculty member to department chair over a span of more than 60 years, died January 13 at the age of 98.
A memorial service will be held at 2:00 p.m. Saturday, February 4, at Collegiate Presbyterian Church, 159 Sheldon Ave., Ames, Iowa. Visitation will be from 4:00 to 7:00 p.m. Friday, February 3, in the Hesler Chapel at Collegiate Presbyterian Church. A private family interment will be in the Iowa State Cemetery. View his full obituary.
Burnet first came to the department in 1942 as an undergraduate student, but had his studies interrupted by World War II. After serving in the South Pacific theater he returned to Iowa State to resume his studies, earning a B.S. in chemical engineering in 1948, an M.S. in 1949 and a Ph.D. in 1951. After spending a few years in industry he returned to ISU as a department faculty member. It was a relationship that was to last for the remainder of his career. He served as department chair from 1961-1978, the second-longest term as chair in department history.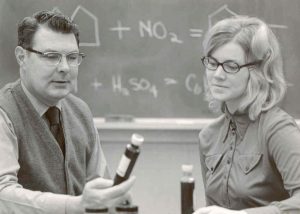 During his time as a researcher and educator at Iowa State he also served as an associate dean and interim dean for the College of Engineering. He was involved in the development and expansion of ISU's Nuclear Engineering Department and served as chief of the U.S. Department of Energy's Ames Laboratory (now Ames National Laboratory) chemical engineering division from 1961-1973.
One of his key research areas involved working with fly ash, which is a byproduct of pulverized coal, that was burned to produce electricity. Dumping of fly ash into landfills was a cause of environmental problems and Burnet's research group undertook efforts to apply chemical engineering techniques to find more efficient and environmentally friendly ways to produce valuable products from it. His work is still heralded as a landmark achievement.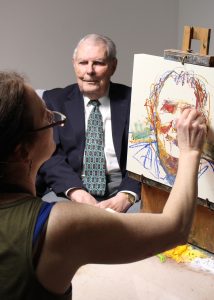 Burnet retired from Iowa State in 1995 as Anson Marton Distinguished Professor Emeritus. His honors are many. He was awarded the Order of the Knoll Faculty and Staff Award in 2011; in 2013 he was inducted into the Department of Chemical and Biological Engineering Alumni Hall of Fame Inaugural Class; in 2020 he was the recipient of the Iowa State Alumni Association's Alumni Medal, the premier alumni award. Other honors include the Benjamin Garver Lamme Medal of the American Society for Engineering Education; Distinguished Fellow of the Iowa Academy of Science and the Iowa Engineering Society Life Membership Award; and the Linton E. Grinter Distinguished Service Award of the Accreditation Board for Engineering Technology (ABET).
He served on committees and panels of the National Science Foundation, U.S. Department of Energy, and a variety of other organizations. From 1983-1987 he was U.S. representative to the Committee on Education and Training, which was part of the World Federation of Engineering Organizations. He is a founding member of the Iowa section of the American Institute of Chemical Engineers (AIChE), and was active with the American Chemical Society, Iowa Academy of Science and National Society of Professional Engineers.
He also served as president of the American Society for Engineering Education (ASEE) and on a number of the organization's committees, including chairing its 1993 Centennial Committee.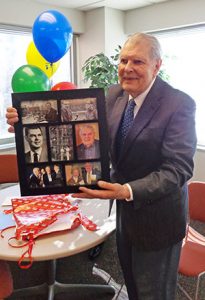 His ASEE work earned him a seat on the Commission on Precollege Education in Mathematics, Science and Technology. The commission produced Educating Americans for the 21st Century, which, among other recommendations, strongly called for the increased use of computers in education.
He was instrumental in planning and coordinating events surrounding the Department of Chemical and Biological Engineering's centennial celebration in 2013, including playing a key role in producing the centennial's commemorative book, "The First 100 Years of Chemical Engineering at Iowa State University (1913-2013)." He remained active in department events in recent years.
His father, grandfather, great-grandfather and great-great-grandfather were all civil engineers, and were all named George. George V married Betty Riggs in 1944 and they had six children. Betty passed away in 1993. George then married Agatha Huepenbecker in 1995. Agatha passed away in 2012 and in 2014 Martha Anderson became his wife. Martha was named as a co-recipient of the ISU Alumni Medal along with George in 2020 .
Adams Funeral Home in Ames, Iowa is handling arrangements.