Mark Lashier earned a B.S. in chemical engineering at Iowa State University in 1985 and a Ph.D. in 1989. In the years since he has earned respect and recognition as an engineer, business professional and industry leader.
The President and Chief Executive Officer of Phillips Petroleum Co. joined the Department of Chemical and Biological Engineering (CBE) Honors and Awards Banquet where he was inducted into the department's alumni Hall of Fame.
The following day he was presented with Cyclone Engineering's Anson Marston Medal, the College of Engineering's highest honor.
Lashier started his career as an associate research engineer in the labs of Phillips Petroleum 33 years ago. He subsequently held a number of research and leadership positions at Phillips and then Chevron Phillips Chemical Company (CPChem), a joint venture between Phillips 66 and Chevron. His various roles included senior production engineer, olefins manager, Asia regional manager, vice president – corporate planning and development, executive vice president of olefins and polyolefins, and was ultimately named president and chief executive officer of CPChem in 2017.
He then moved back to Phillips (renamed as Phillips 66) in 2021 as chief operating officer. He was named president and chief executive officer of Phillips 66 in 2022.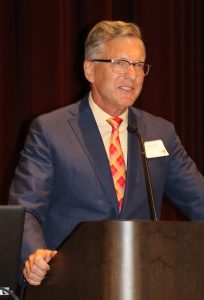 He serves on the boards of several industry groups and nonprofits, including American Fuel and Petrochemical Manufacturers, the Greater Houston Partnership, Iowa State University's College of Engineering Industrial Advisory Council, Junior Achievement of Southeast Texas and the American Cancer Society's CEOs Against Cancer. He also is a member of the Business Roundtable.
Lashier is a member of the Order of the Knoll President's Circle at Iowa State, has served on the CBE Advisory Council and is currently a member of the College of Engineering Advisory Board. He has previously received the College of Engineering PACE alumni award.
As an inductee to CBE's Hall of Fame, a plaque in his honor will be placed on the department's Hall of Fame wall in the Sweeney Hall lobby.