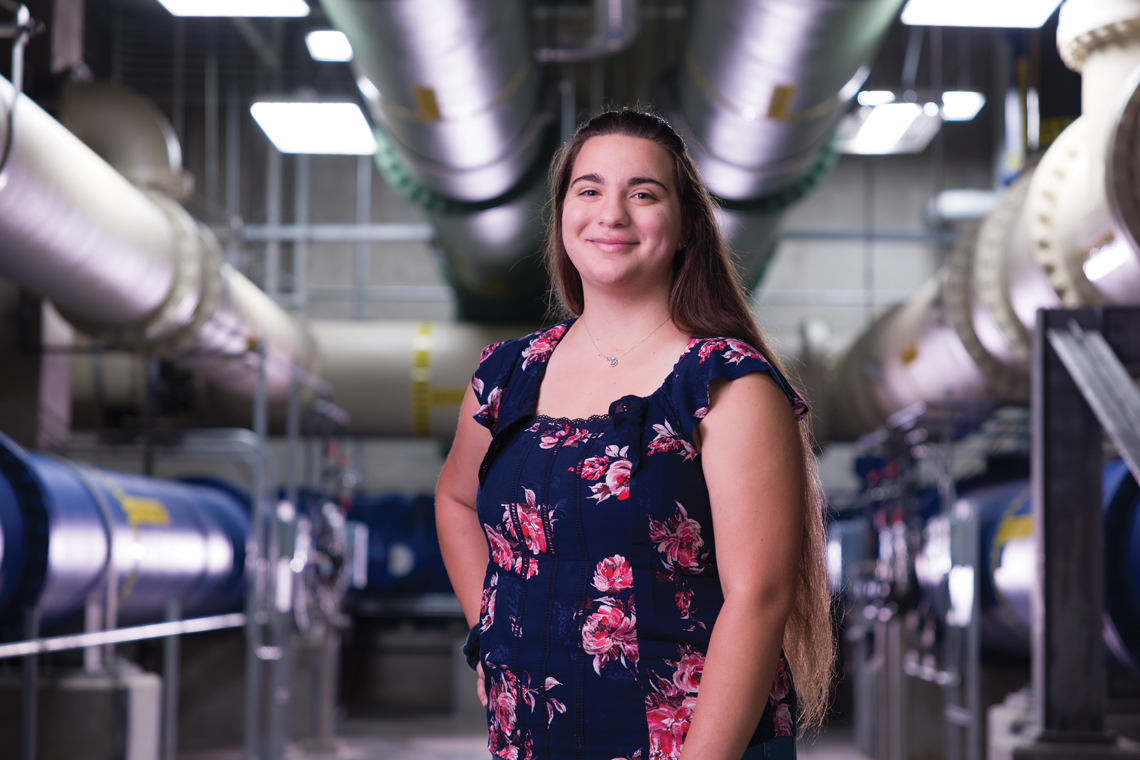 Daria Dilparic combines her love of chemistry, water quality and public health as a graduate student in environmental engineering – and in a position as a student operator at Ames Water and Pollution Control Department. Dilparic's commitment to protecting the environment and her community inspires her to use analytical chemistry methods to solve drinking water contamination problems.
Working for the Ames Water and Pollution Control Department has been my most rewarding and fulfilling professional experience yet. There is something so special about providing a service to your community, and I am honored and proud to use my engineering skills in this way.
I started as a student operator at Ames Water as an undergrad, interned for the department for about a year, and now I'm conducting research for the water treatment plant as a graduate student.
My goal is to contribute to the department's mission of providing exceptional water for the Ames community by determining the sources of PFAS contamination in the Ames aquifer.
Per- and polyfluoroalkyl substances (PFAS) are a class of manmade chemicals that have been used in many nonstick, water-proof, and oil-resistant applications over the last few decades.
The prevalence of PFAS in many consumer items, building materials, and aqueous firefighting foams has contributed to the contamination of most water systems.
So, working with Joseph Charbonnet, assistant professor of civil, construction and environmental engineering, I am conducting a PFAS fingerprint profile of the Ames groundwater. I'm using liquid chromatography-mass spectrometry methods to determine the presence and quantity of various PFAS species in raw water samples.
PFAS have been linked to several chronic health outcomes and are a contaminant of emerging concern, so it's really important we learn how to mitigate them whether it is selecting different water sources or applying appropriate treatment technologies.
I'm lucky to be part of a great research team both on campus and off. Environmental engineering faculty like Dr. Charbonnet and Tim Ellis and chemistry professor Jared Anderson have supported me academically by helping me design my analytical methods. Additionally, retired professor emeritus of geological and atmospheric sciences Bill Simpkins, along with Claire Hruby and Matt Graesch from the Iowa Department of Natural Resources, have all shared their technical expertise with me.
At Ames Water and Pollution Control, Lyle Hammes, Neil Weiss, and John Dunn have given me every opportunity to be involved in a wide variety of projects that have strengthened my motivation to work in the public sector water industry just like they do. I am very grateful for their tremendous support on my research project and professional development.
At the heart of Iowa State's environmental engineering program is genuine care for the well-being of people and the land and water around us. The water we drink and the air we breathe are vital to our health, and it is our responsibility as engineers to protect it.