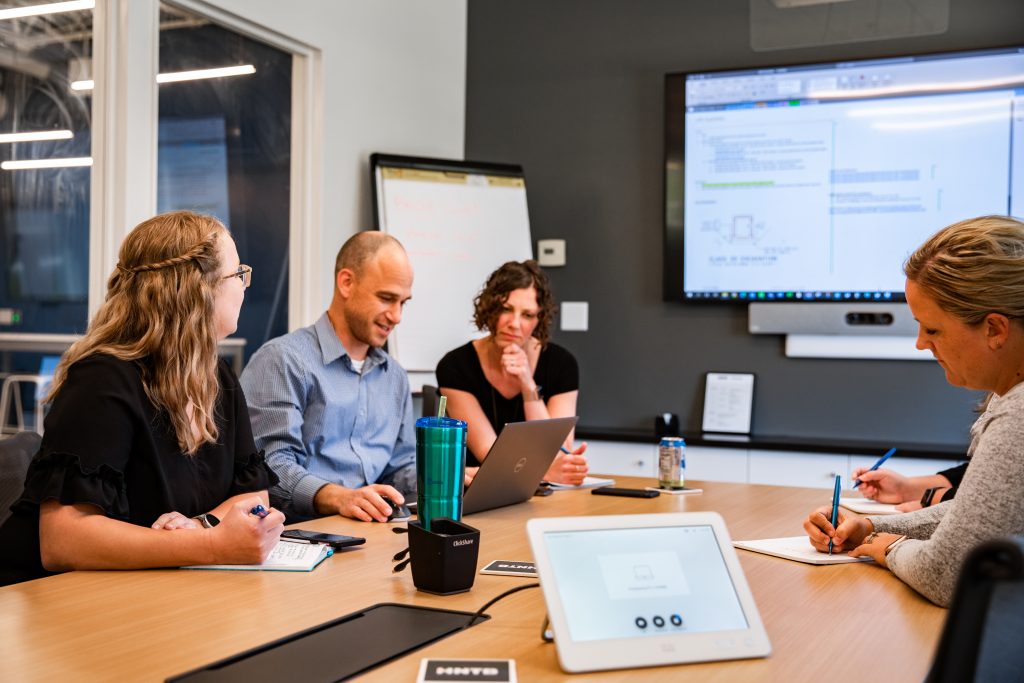 After graduating from the Department of Civil, Construction and Environmental Engineering at Iowa State University, four civil engineering students began to build their careers at HNTB, an infrastructure solutions firm headquartered in Kansas City, Missouri.
When each graduate started as a civil engineer at HNTB, they executed several projects in many different outlets of civil engineering. But after starting one major project together – a system interchange reconstruction project where I-29 and I-480 converge in Council Bluffs, Omaha – the four graduates became interconnected once again to "move home" and build an office through HNTB together in Des Moines, Iowa.
Each graduate brings a new perspective to the company and leads a different group of employees in their Des Moines office. Ashley Cook, 2010 structural engineering MS graduate, specifically works with bridges. Stephanie Hemberger, 2006 civil engineering undergraduate, works in transportation and design. Heidi Lane, 2010 undergraduate in civil engineering, works in municipalities and water. And David Green, 2009 civil engineering undergraduate, works with Hemberger in transportation as a lead engineer. Cook, Hemberger and Lane are all three section managers for their area of expertise.
HNTB was created in 1914, over 100 years ago. But just like Iowa State, there were two qualities of HNTB that stood out to the four graduates – innovation and collaboration. And not only did HNTB provide new energy and a network of collaboration, but the graduates also noticed the inclusivity of the company – something they really valued.
"When I look back on my career in HNTB, there has always been a strong network of not only female, but male mentors too, and it has been a supportive and inclusive environment with opportunities for everyone," Hemberger said. "HNTB has a really collaborative culture, and I think if you ask why most of us have been here so long, it would be because of the culture."
After originally starting in Kansas City with this environment of collaboration, the four graduates are implementing the same welcoming and inclusive culture at the office they manage in Iowa, too.
"Now, we are always bringing new energy and building the culture of the Iowa office," Hemberger said. "We all had a passion for Iowa, and were excited to come back here."
The flow of graduates from ISU to HNTB has not slowed down – what started as 6 engineers in the Iowa office is now over 20 employees, several of them coming from Iowa State.
With a modern outlook and insight on changing technology, the four graduates are continuing to enhance the Iowa State culture of innovation and inclusion at HNTB. Hemberger stresses that one of the most important qualities an engineer can have is an open mind in the field.
"It's such a changing world, and client needs and infrastructure are constantly changing," Hemberger said. "I think it's important to have an open mind and an excitement to try new things."
The group says that their time at Iowa State prepared them for this collaborative style that they exhibit. With over 800+ student organizations at Iowa State, they were involved in many networking and group events and projects.
"There are so many opportunities to be involved in organizations at Iowa State," Hemberger said. "Those opportunities helped me develop skills, relationships and friendships that encouraged me to be involved. And being involved in the industry here at HNTB is so important, so Iowa State organizations were a good stepping stone for that."
And in CCEE, Lane says that even the classes represented the collaborative style.
"The department was really good at involving industry in classes, working with real clients and projects in senior design," Lane said.
What started as visiting a booth at the engineering career fair for some of the graduates, turned into a career that they have thrived in for over a decade. Now, Hemberger and Lane will be representing HNTB at the ISU College of Engineering Career Fair on September 20, 2022. Students can come visit with HNTB Des Moines staff at the career fair, and at two upcoming events on campus: the Iowa State Student Chapter SWE lunch and Learn on September 13th,where HNTB will have a panel of their women engineers available to answer questions, and then again at the student chapter ASCE meeting on September 19th, where they will be speaking on the newly constructed I-74 bridges over the Mississippi River in Bettendorf, IA.