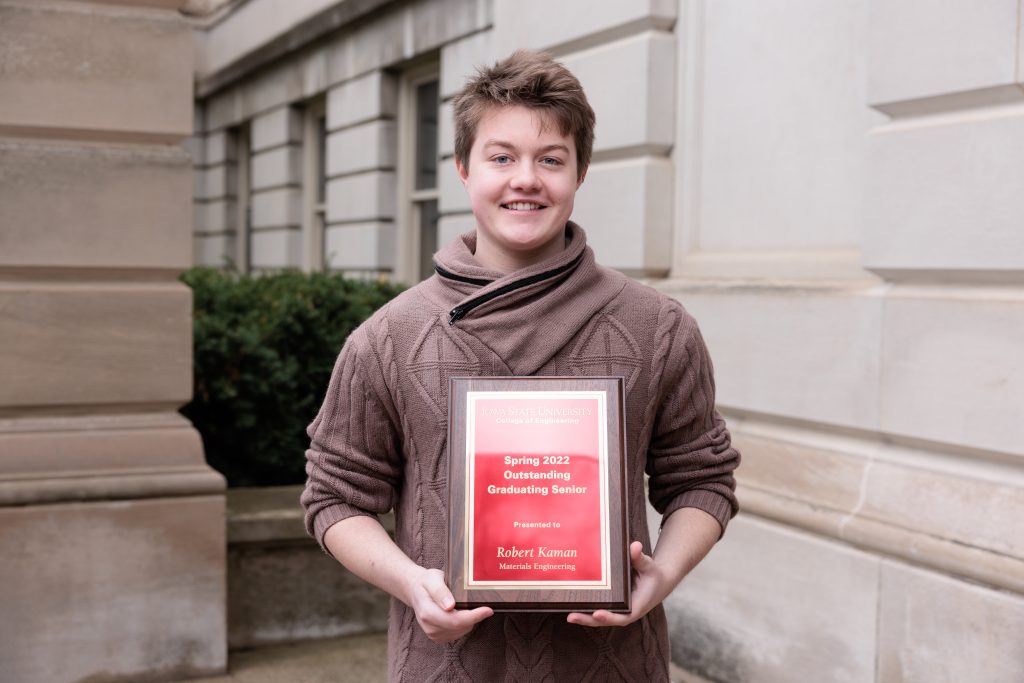 "I hope to do fundamental work that has a wide range of applications – if I do something helpful or interesting, it will have the largest impact on the world if its applications are numerous and diverse."
Hometown: Urbandale, Iowa
Clubs and activities: Material Advantage, ISU Jazz 1, Jazz Combo
Valuable hands-on learning experience: A Research Experience for Undergraduates (REU) at Texas A&M University. I was allowed to work on a few projects remotely, one of which was of my design. It was a really approachable introduction to how experimental materials science is really done.
Influential mentor: Alan Constant, teaching professor of materials science and engineering, is a wonderful lecturer, especially in his more physics-adjacent courses. He taught me that some parts of physics deserve a bit of mysticism.
Best memories: I enjoyed Mat E FAC at Pizza Pit every couple of weeks as a way to for everybody to know each other a bit better (including a few professors). The undergrad's student room on the third floor of Hoover is also great way to bring together undergrads in a friendly, inclusive atmosphere that encourages academics and socializing.
Plans after graduation: I'm heading to a Ph.D. program in materials science at the University of Illinois Urbana-Champaign
Leaving my mark on the world: I hope to do fundamental work that has a wide range of applications – if I do something helpful or interesting, it will have the largest impact on the world if its applications are numerous and diverse.
Engineering like a Cyclone Engineer: Maybe it's related to Iowa Nice, but there's a particular approachability that I think many professors at Iowa State have. This is huge, especially in your early years studying engineering, because the comfort level with asking questions sometimes can present a big block.