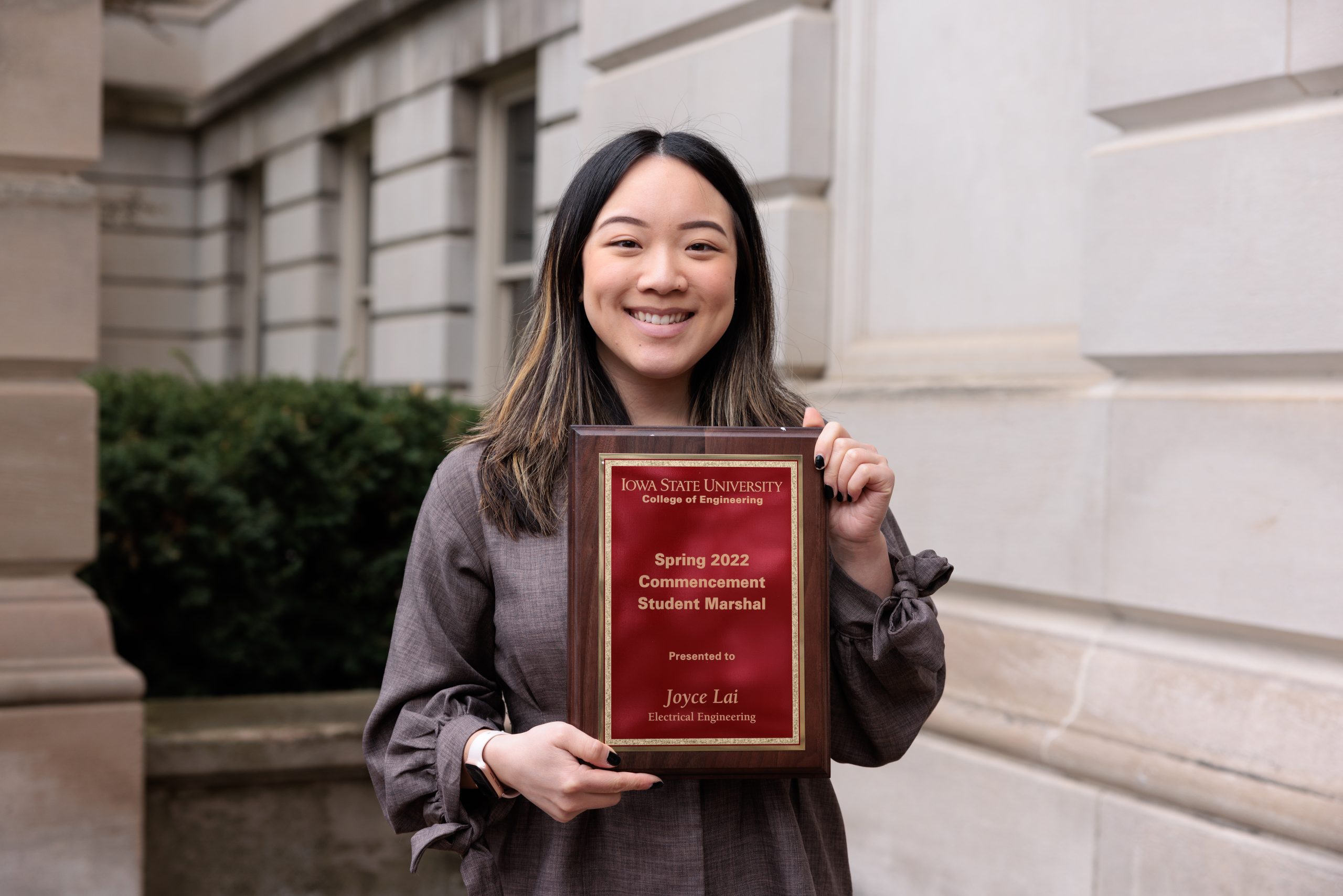 "I want to provide robust solutions that are well understood and safe while also being mindful of the technology that I develop so that it does not take away from humanity – especially if it is utilizing artificial intelligence."
Hometown: Hiawatha, Iowa
Clubs and activities: International Student Council (ISC) – Student Advocacy Director, Member; IEEE Eta Kappa Nu Honor Society (IEEE-HKN) – Member, Service Chair; Iowa State Symphony Orchestra (ISSO); Academic Program for Excellence (APEX) – 2018 Cohort
Valuable hands-on learning experience: In terms of my professional development, it was my research undergraduate experience (REU) with the University of Houston. I got very comfortable reading scientific literature, and my thought process became more sophisticated in terms of identifying research questions and developing appropriate solutions.
Influential mentor: Many of my EE professors have been influential to me, but if I had to choose one, it would be Sang Kim, associate professor of electrical and computer engineering.
Dr. Kim helped me develop the confidence to learn more advanced topics, provided guidance for applying to graduate school, and wrote many letters of recommendation on my behalf for both REU and graduate programs.
Best memories: Spending time with my friends in International Student Council (ISC) from late-night Perkins runs to playing soccer and basketball at Lied.
Plans for after graduation: I plan to enter a Ph.D. program in control systems. I currently have graduate offers at six prestigious universities.
Leaving my mark on the world: My options are open at this point in my career, but it would be really cool to work on machine learning for the control of autonomous vehicles or medical robots.
Regardless, I want to provide robust solutions that are well understood and safe while also being mindful of the technology that I develop so that it does not take away from humanity – especially if it is utilizing artificial intelligence.
Engineering like a Cyclone Engineer: I really appreciate many things about my Iowa State engineering experience, such as the exposure to the main branches of electrical engineering, the emphasis on fundamentals, and how easy it is to get into research.
I feel prepared to thrive in any engineering setting not because I know a lot, but because I have a solid background including theory and application that allows me to self-teach new skills and topics. And from what I've observed, my ECpE professors like to speak through their work, and that makes me proud to be a Cyclone Engineer.