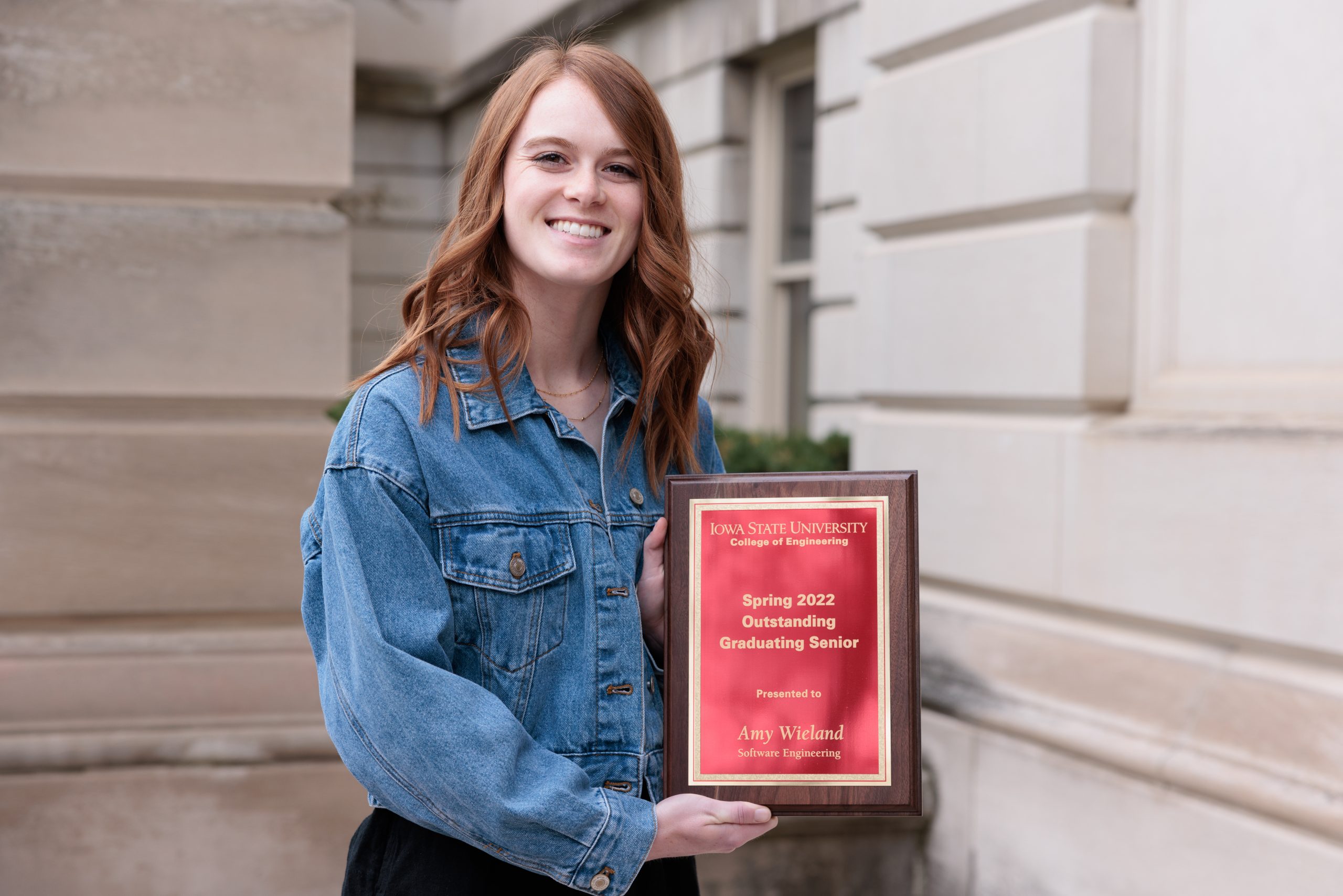 "With my creativity and problem-solving skills, I hope to forge my own path through creating businesses, being a mentor and advocate to young women, and empowering young women to forge their own path in STEM and become a leader for future generations."
Hometown: West Des Moines, Iowa
Clubs and activities: Throughout my time at Iowa State, I have enjoyed playing on the Iowa State women's club soccer team, being a peer mentor and member of Gamma Phi Beta, going on trips through Outdoor Rec Services, and participating in as many intramurals as possible.
Valuable hands-on learning experience: Last summer, I had the opportunity to work as a software engineering intern at Parametric Studio Inc. This was an awesome experience where I got to apply the concepts I was learning at Iowa State in the real world.
As an intern, I worked on their Newton AR application that aims to help young students learn STEM concepts in a fun and interactive way using augmented reality. Being able to contribute to a project like this made me feel more confident in my programming skills and showed me how far I have come since I first started the software engineering program at ISU.
I am very grateful for the mentorship I received at Parametric Studio, as it helped me improve as a software engineer and prepared me for working in the real world.
Influential mentor: My most influential mentor at Iowa State would be my previous advisor, Andrea Klocke. Before I changed majors to software engineering, I was fortunate to have Andrea as my advisor and work with her through the peer mentoring program.
I love how much care and kindness Andrea shows to each and every person she interacts with. She always made you feel listened to and was always there to support and encourage you to reach your goals.
Best memory: Many of my favorite memories from Iowa State come from being on the women's club soccer team. One of my favorite memories from soccer club was this past fall at nationals in Orange Beach, Alabama.
In our second group stage game, I ended up scoring in the final minutes to break the tie and help the team gain a better standing in our group. It was such an exciting moment, and I will never forget the amazing memories I made with my teammates and playing soccer on the club team.
Plans after graduation: I will be working as an application developer for Zirous.
Leaving my mark on the world: With my creativity and problem-solving skills, I hope to forge my own path through creating businesses, being a mentor and advocate to young women, and empowering young women to forge their own path in STEM and become a leader for future generations.