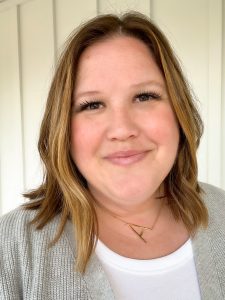 Job title: Undergraduate program coordinator and academic advisor in materials science & engineering
Years in position: 14
What is the most rewarding part about your job? 
On a daily basis: Helping students to feel empowered, supported, and confident in the many decisions they will make during their Iowa State career – and being there for them when they encounter personal or academic obstacles to their well-being or success.
Then there are those special moments that give me chills or happy tears: Celebrating with a student who just landed a full-time job or was accepted to their dream graduate school, having an alum stop by my door to say hello when they are back visiting campus, receiving life updates and random notes of thanks from appreciative alumni who miss their MSE "family," attending weddings of current or former students, or pretty much any moment at commencement! 
What would surprise people the most about your position? 
Helping students select the next best courses to take in their degree program is only a small part of my role. Serving as an enthusiastic supporter of students, faculty, and colleagues, while contributing to the mission of the Materials Science & Engineering Department and College of Engineering is at the heart of my work on a daily basis. The variety of work is what keeps this position fresh and interesting!
What makes the Cyclone Engineering student experience unlike any other?
The relationships with peers and mentors that Cyclone Engineers build at Iowa State – both inside and outside of the classroom – are a highlight of the unique ISU experience.
Iowa State prioritizes the human connection piece of being a student – emphasizing treating each other well through the ISU Principles of Community, building a network early through learning communities, supporting and showcasing student organizations, and reminding all of us that we are here together to keep the campus community safe, well, and thriving.
Students can graduate from ISU with lasting friendships, professional mentors, and an understanding that it is the people in our lives that give our professional and personal futures both meaning and fun.
What do you enjoy doing outside of work?
I love to travel with family or friends whenever possible (I even love the planning aspect!).
I love cooking, especially trying new recipes, and then sharing food with others. I love spending time with the people who are most important to me – reconnecting over coffee, joining a team for a trivia night, or enjoying live music are some current favorites.