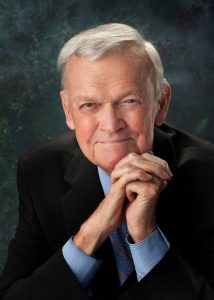 One of the most ardent supporters of the Department of Chemical and Biological Engineering (CBE), Reginald R. "Barney" Baxter, has passed away. Baxter, 96, died March 29, 2022. He resided in North Palm Beach, Florida.
Baxter received a B.S. in chemical engineering from the University of Arkansas in 1948 and a M.S. from Iowa State University in 1949. He then embarked on a varied and highly successful career, which began with American Oil Company as a refinery process engineer. His next move was to Standard Oil of New Jersey. He later became president and CEO of CF Industries, a major manufacturer and distributor of chemical fertilizers; and president and owner of ASHTA Chemicals, a leading manufacturer and marketer of potassium hydroxide and related products. In the late 1980s he became CEO of Nimbus Medical, a medical device company that successfully developed a heart pump to assist with a failing heart condition.
He also founded his own consulting firm, Baxter Associates, and provided investment and acquisition capital and services through Baxter Investment Group, Inc.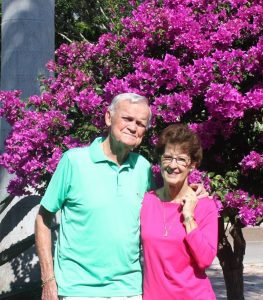 Prior to receiving his college degrees he was drafted into World War II service by the U.S. Army and became part of the Army Specialized Training Program – a group that focused on enhancing radar capability.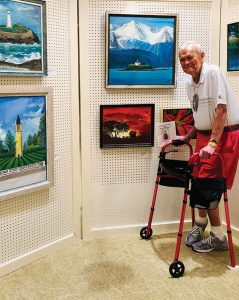 He was among the charter members of the Department of Chemical and Biological Engineering's Hall of Fame, which was launched in 2013. He and his wife, "Jamie," founded the Reginald R. and Jameson A. Baxter Foundation, which in 2016 provided an endowed professorship for CBE department chair Andrew Hillier, who became Reginald R. Baxter Endowed Department Chair. They also supported renovations to Sweeney Hall, home to Iowa State CBE, including a student computer and collaboration lab which was named in their honor and funded the renovation of a research laboratory. They have also funded a chemical engineering graduate fellowship in their name at Iowa State.
In his later years Baxter took up oil painting (see a story in the 2019 CBE ActiveSite newsletter), authored a book called "Manage the personality – not the person" and also wrote a personal memoir titled "A Bountiful Harvest."
In lieu of flowers, contributions can be made to Lost Tree Foundation, 8 Church Lane, North Palm Beach 33408 or to the charity of your choice.