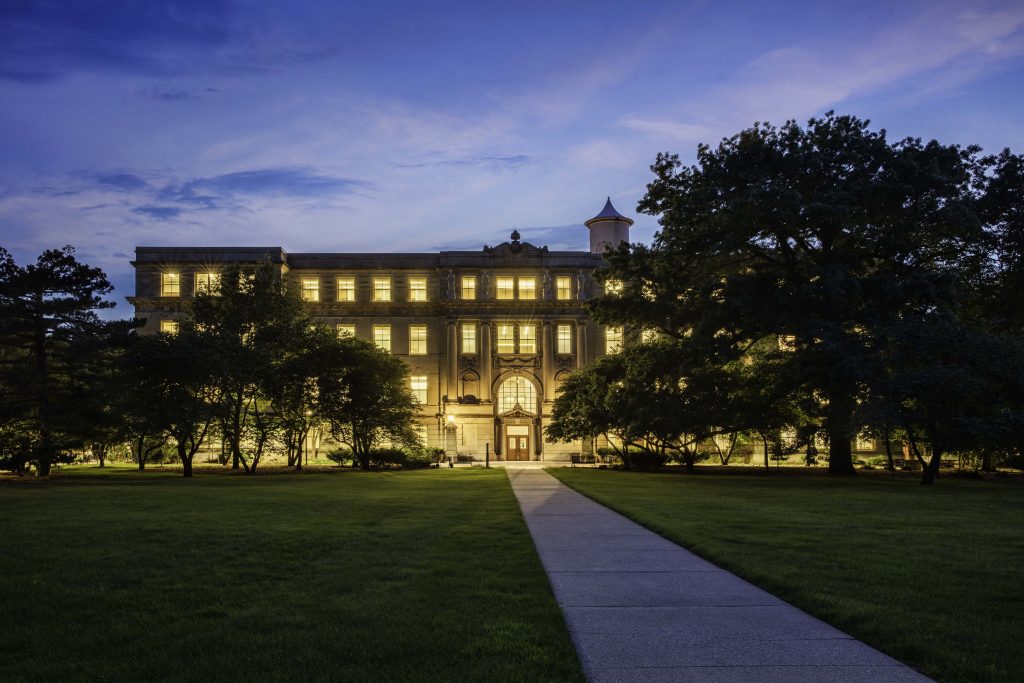 More than five years after completion of the Marston Hall renovation project, Iowa State University has been recognized by a top industry organization for the building's HVAC design and operation.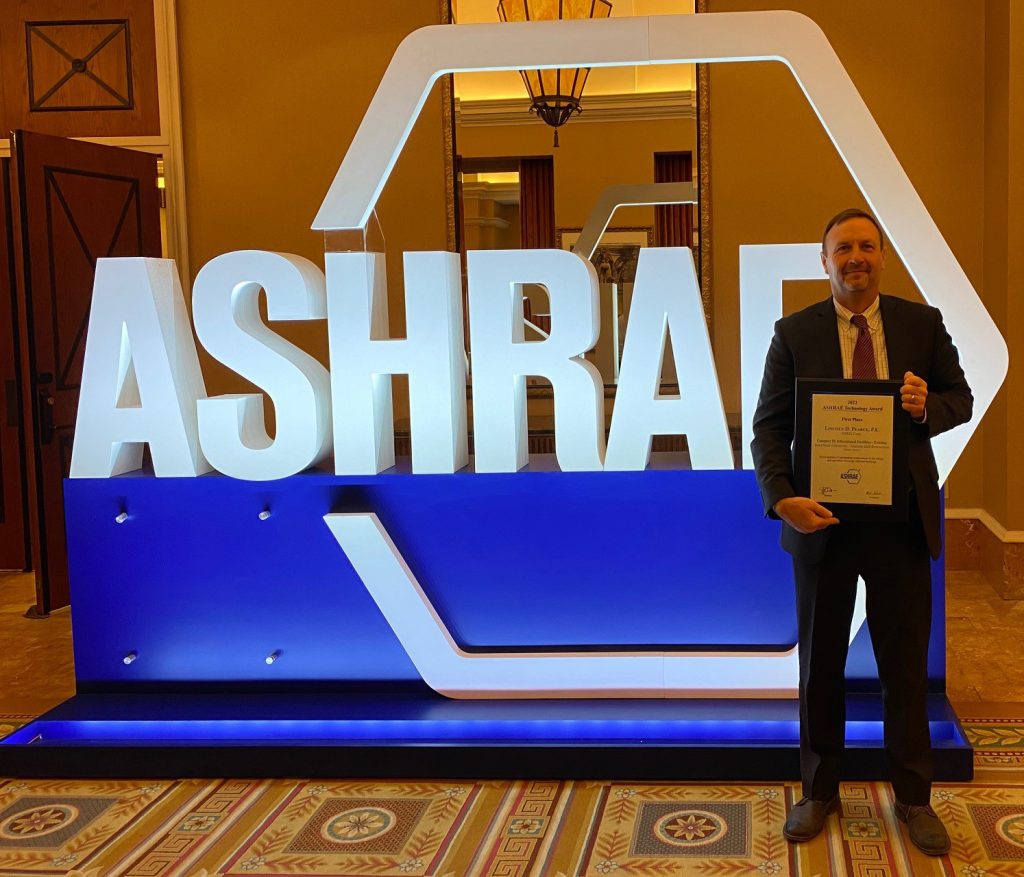 In January, the American Society of Heating, Refrigeration and Air-Conditioning Engineers (ASHRAE) presented IMEG Corp., an engineering design firm, with a society-level first place Technology Award in the existing educational facilities category for their involvement in the Marston project. Lincoln Pearce, an Iowa State University alum who worked on the project for IMEG, was on hand at ASHRAE's 2022 Winter Conference in Las Vegas to receive the award. The award committee recognized this particular project for outstanding achievement in the design and operation of the building's HVAC system. Pearce presented a plaque of the award to Sam Easterling, James L. and Katherine S. Melsa Dean of Engineering, during a visit to campus on April 1, 2022.
"We were very excited and happy to know that Iowa State University and our design team would receive recognition for this project after years of work," said Pearce, adding that the project timeline dates back to 2010, when they first began their feasibility study to completely renovate the building. "It was a great feeling knowing our industry peers agreed this project was worthy of the award and this recognition."
A passion project for a passionate alum
This project was extra special to Pearce, who graduated from Iowa State with his B.S. in mechanical engineering (ME) in 1995. Growing up in Dubuque, Pearce enjoyed working on radio-controlled models and bicycles. He always had an interest in "how things work, designing solutions, and repairing and optimizing things," so engineering felt like a natural fit when it came time for college. Not sure which engineering field to pursue, the father of one of his friends who worked at John Deere encouraged Pearce to consider studying ME because of its broad applicability. He was attracted to Iowa State University because of its engineering reputation, its affordability, and the fact that he would still be fairly close to family – some of whom had also attended Iowa State.
However, Pearce encountered some adversity when he arrived on campus. He struggled enough in Thermodynamics I that he considered switching majors. He stuck with it, however, and is glad he did because it was during Thermodynamics II with Howard Shapiro, who is still on the faculty today, where it all clicked for Pearce.
"Dr. Shapiro had this way of explaining thermo that really was clear to me, and really increased my interest," said Pearce. "At that point I knew mechanical engineering was what I wanted to do for my career, specifically in a field related to thermo and heat transfer."
As a student, Pearce completed an internship with Amana, working on design and manufacturing of refrigeration systems. While he said he developed a lot of technical knowledge through the internship, it also allowed him to discover that he enjoyed working on larger systems as opposed to a single intricate part within that system. He said the knowledge he developed about those smaller intricate parts helped him to understand how they fit into a broader system.
The Marston Hall renovation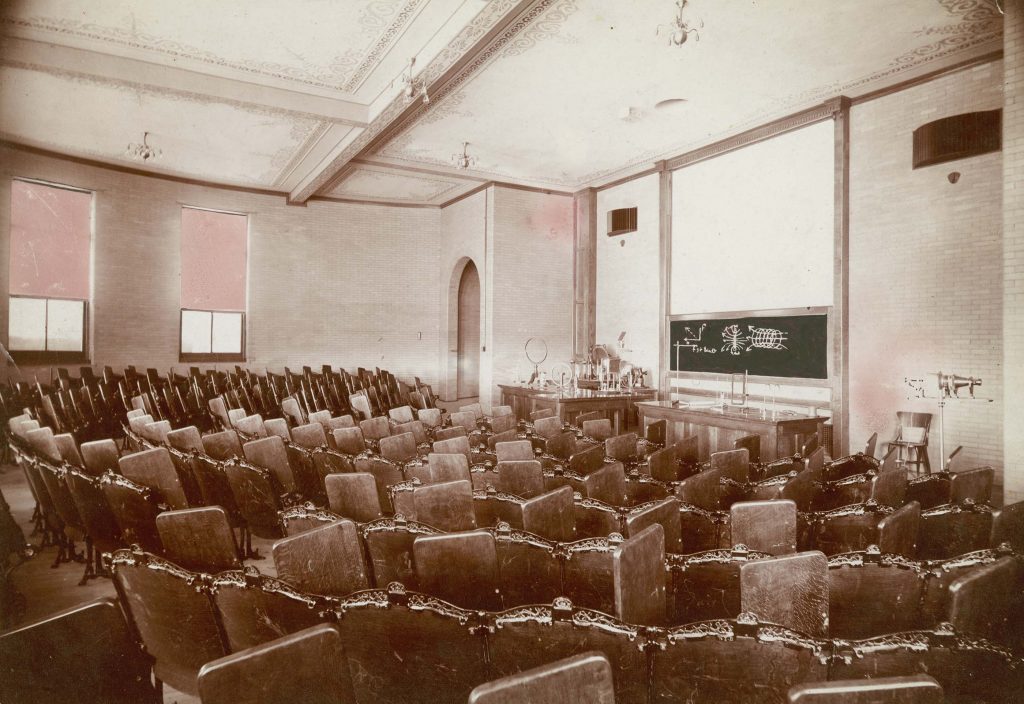 Pearce joined KJWW Engineering (now IMEG Corp.) after completing his B.S. in ME in 1995. More than a quarter century later, he is still with the same company. He has worked on various building projects at Iowa State University, the University of Iowa, Iowa-based companies such as Vermeer, HNI, and Rockwell Collins, as well as the federal government. While he said he appreciates all the opportunities he's had to work on projects for his alma mater, the Marston Hall project is especially significant because he took several classes there as a student from freshman through senior years. The four-story, limestone building was constructed in 1903 and its many features include a façade on the building's east side featuring four muses representing the original four engineering majors: civil, electrical/physics, mechanical and mining.
Considering the historical significance of the building and the need to preserve the original exterior as much as possible, the proposed design completely gutted the interior during the renovation but left the exterior mostly unchanged. Pearce and his design team were largely focused on developing a 21st century HVAC system for building that was constructed right around the advent of modern air-conditioning.
The central HVAC system is in the building's basement, with ducts extending horizontally and vertically to deliver ventilation air to every corner. These original ducts were built using masonry and concrete. In many ways, Pearce and his team attempted to mimic the original design developed by Anson Marston, a longtime dean for the College of Engineering, a pioneer in the field of civil engineering and the building's namesake.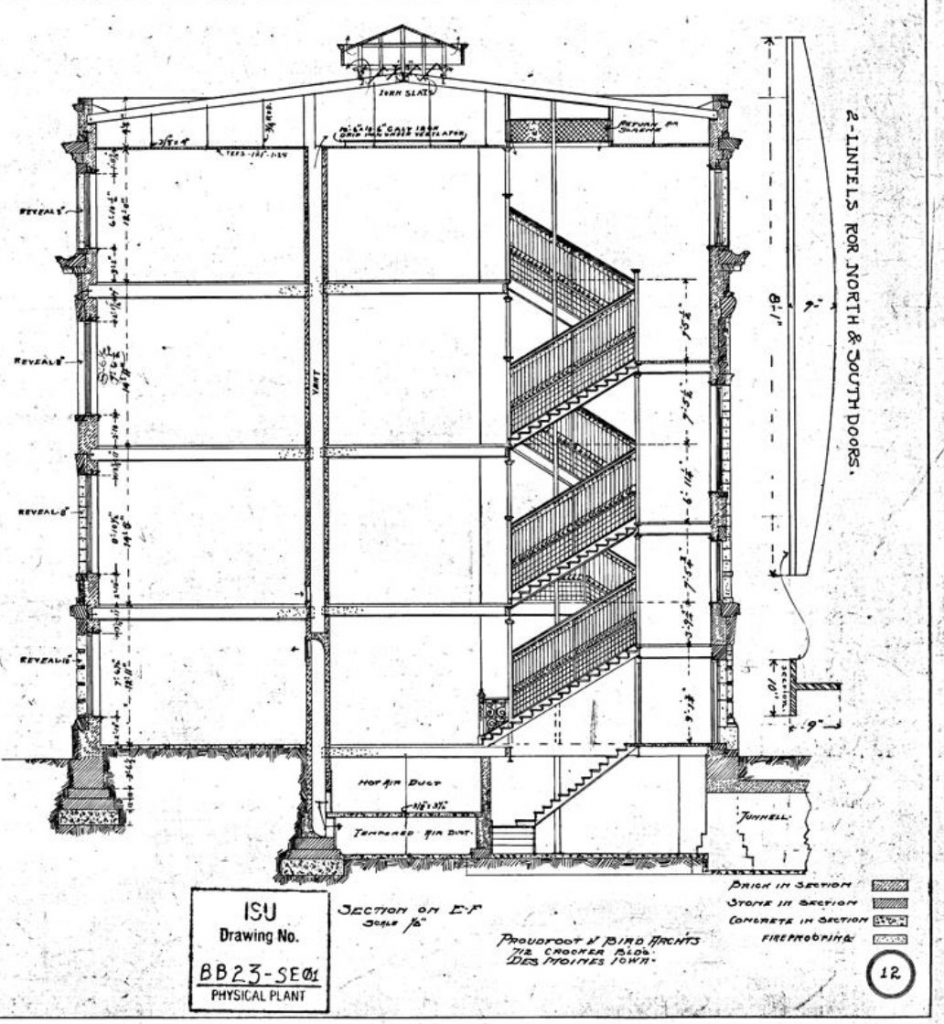 In order to preserve the building's authenticity, Pearce, who served as the project's mechanical systems concept engineer, said the design team took a few calculated risks with the system they developed. Specifically, they decided to use a chilled beam system for cooling a majority of the building, because this type of system required less space than traditional ducted air systems. The HVAC design solution had to fit within the building and still allow the architects to create the desired interior experience.
"We really applied the psychrometrics knowledge I learned at Iowa State to ensure we specified the right equipment and operating conditions that would adequately control humidity in the building. The active chilled beam system we specified for most of the building is sensitive to high humidity, which can result in moisture issues in the building. With this building being in Iowa and having operable windows, we needed to plan accordingly for those conditions," Pearce said.
The renovation project was completed in time for the Fall 2016 semester, and a year after that the building received LEED Gold certification.
In addition to Pearce and the IMEG Corp. team, Substance Architecture in Des Moines and Mortenson Construction in Minneapolis were both integral to this project. Brian Dangelser, chief engineer at Iowa State University, and the staff in ISU's facilities planning and management (FP&M) office also played a major role in reviewing and supporting the project design. The FP&M team was responsible for much of the work that took place behind the scenes such as maintaining the building's utilities and custodial services as well as coordinating the temporary relocation of faculty and staff during the roughly two years that the renovation took place.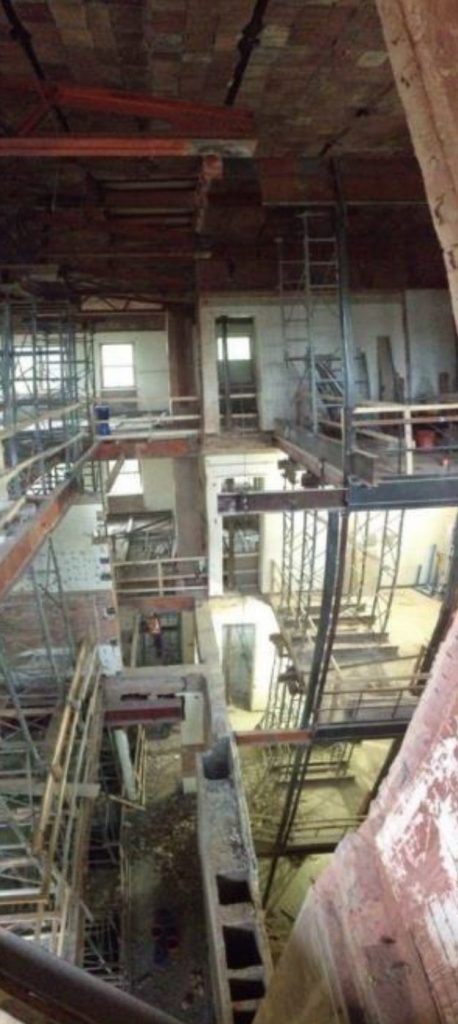 Dangelser holds a degree in chemical engineering from Iowa State, and like Pearce, also remembers taking classes such as freshmen drafting in Marston Hall as a student. Dangelser appreciated many of the building's historical elements. He mentioned that the building's architecture was largely influenced by the World's Columbian Exposition of 1893, which went on to influence the design of many turn-of-the-century buildings. He also pointed out that the steel beams on the fourth floor of the building were some of the last beams manufactured by the Carnegie Steel Company, before Andrew Carnegie sold it to pursue philanthropic endeavors, such as supporting scientific research and the construction of public libraries. The beams include the text "CARNEGIE" stenciled into them and they are riveted together because they were manufactured before welding became commonplace.
"It was really neat to see the emphasis on keeping as much of the old intact as possible," said Dangelser, who recently celebrated his 19th year working for his alma mater. "It's been a joy to work at Iowa State because I was student here, and after graduation I never thought I'd have the opportunity to come back and serve the university in this way."
Dangelser and the FP&M team were mindful of the impact that a building can have on a campus from its general aesthetics to its ability to help recruit students. He used the example of the Snedecor Hall renovation project, which is home to Iowa State University's prestigious Department of Statistics and which he said saw a significant increase in graduate enrollment after that renovation was completed in 2009.
The Marston Hall renovation was also one of the final projects for Larry Pithan, a fellow Iowa State ME alum, before he retired from IMEG Corp. after roughly four decades of service.
"Our engineers did an incredible job with the design of the Marston renovation," said Pithan. "Bringing a 100 year old building up to modern design is challenging. I am proud of the work that was done and really am glad Marston Hall will live on far into the future."
Pearce said he appreciates that Pithan, a personal mentor of his, has supported his alma mater in countless ways over the years. Much like Pithan and Dangelser, Pearce shares that sentiment of giving back.
"Considering Iowa State was the place where I studied to be an engineer, being able to come back years later and apply all of the knowledge and skills I learned was really rewarding," said Pearce. "Not many people get an opportunity to come back and work on something like this, and to have this work recognized by our industry peers only made it that much more meaningful. It was humbling to be able to bring that honor to my alma mater."