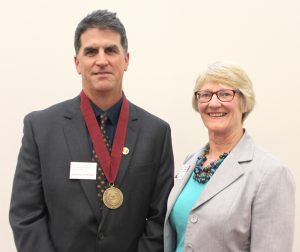 Dr. Andrew Hillier has been officially recognized as Reginald R. Baxter Endowed Department Chair. A medallion ceremony led by James L. and Katherine S. Melsa Dean of Engineering Sarah Rajala commemorated the honor at the department's Honors and Awards Banquet.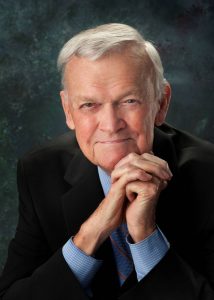 The endowment is made possible by the generosity of Reginald "Barney" Baxter and his wife, Jamie, who have been strong supporters of the department for many years.
Endowed faculty members are seen as a key component in achieving academic excellence at Iowa State for its students, their futures and the state's economy. In addition to the distinctive and prestigious title for Dr. Hillier, endowed status brings ongoing financial support that can be used to advance his scholarly work, and helps the university achieve its land grant mission of providing a high-quality education and conducting groundbreaking research that addresses society's greatest challenges.
Barney Baxter obtained an M.S. in chemical engineering from Iowa State in 1949 and enjoyed a career in industry and entrepreneurship. He holds fond memories of his time in the department as a student, and of Sweeney Hall: "It holds a warm place in my heart," he said. "Dr. Sweeney (the department's first chair) was an enduring inspiration to me throughout my career, and I am forever grateful for having studied with him." The Baxters have previously supported renovations to Sweeney Hall, specifically a student computer and collaboration lab which was named in their honor and the recent addition of a new research laboratory space in Sweeney Hall. They also fund a chemical engineering graduate fellowship in their name at Iowa State.
"It gives me great pleasure to provide this gift to the Chemical and Biological Engineering Department at Iowa State University," said Baxter, in written comments he provided. "This chair endowment is a 'give back' for the advanced degree and the outstanding teachers in chemical engineering that Iowa State University provided me in 1949.'"