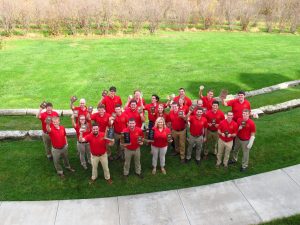 Mackenzie 'Mac' Alberts never forgot her first Associated Schools of Construction (ASC) competition.
"I got home to my apartment. I grabbed my roommate out of her room and I was jumping on her bed because it just solidified just exactly what I wanted to do with my career," Alberts said, smiling at the memory.
That year, the Design-Build Team came in third. But placement wasn't what stuck with Alberts.
"It was the first real ConE experience that I had," Alberts said. "I was so happy after getting third place in this competition that it was almost overwhelming."
The Competition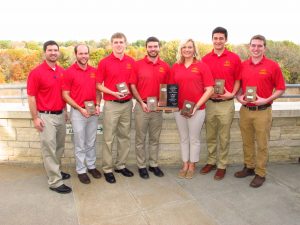 Alberts first joined ISU's ASC competition teams as a sophomore. She remembered every aspect of the competition.
"It was 18 hours of being in a room with five other people that I barely knew and working on this proposal," she said.
That sums up the intensity of the ASC Region IV Construction Management Student Competition. This year, ISU teams cleaned up first place in three divisions: commercial, specialty, and design-build (Alberts' team). ISU's Heavy-Highway Team brought home second place. In the competition's history, ISU has now placed first 45 times. Schools compete from states across the Midwest, including Iowa, Kansas, Minnesota, Missouri, Nebraska, North Dakota, and South Dakota. And each team faces its own assignment, or RFP (request for proposal).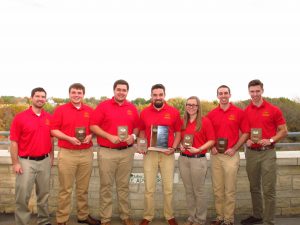 "[We were] tasked with a new 26,000 square foot police station in Illinois," Charles Sweeney, leader of ISU's Commercial Team, said. "The building included LEED Gold certification, multiple finishes, and a late change in excavation requirements that challenged the whole team to find a solution and estimate its impact on the proposal."
Specialty Team leader Dylan Busby said his group was tasked with replacing two air handling units in a hospital. That wasn't the only challenge.
"To add a level of difficulty, the hospital was to remain open during construction," Busby said.
The Heavy-Highway Team faced a rehabilitation project of a mile-long stretch of four-lane asphalt highway and frontage road located in Texas.
"The project required phasing the work in order to maintain traffic flow and provide access to the businesses located along the stretch of road that was being replaced," Heavy-Highway Team leader Blake Gethmann said. "In addition to the paving project, we were also given a two-lane bridge replacement that was a separate project, but was scheduled to overlap with the paving project to allow it to be built at the same time with the same project team, saving additional project overhead."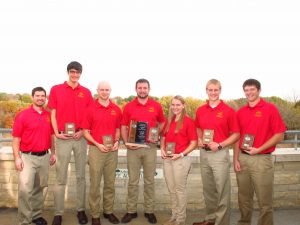 Alberts' Design-Build Team planned an office building for the California State Patrol. The assignment grew tougher when the team was asked to take into account the specifications of a government building lying in a high seismic zone.
But it's these challenges that make the experience. On her engineering internships or when talking to industry leaders, Alberts says she hears one comment that sums up the competition: "This is real, this is what happens."
A Learning Legacy
The teams' advisor Larry Cormicle knows all about the real-world, project-based approach. Cormicle, a senior lecturer in ISU's Department of Civil, Construction and Environmental Engineering (CCEE), encourages students to take the reins.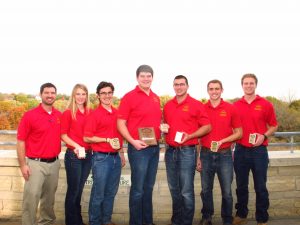 "It's continually focused on their ownership of the solution," he said.
Cormicle answers questions, but he's the first to admit that the teams do the work.
"Give them the resources, and get out of their way," Cormicle emphasized. Alberts describes this coaching style as a "learning legacy."
"Larry is Larry," Alberts said, summing up Cormicle's drive. "What he wants is for his students to succeed, and not just to succeed, but succeed in learning."
This December, Alberts will graduate. Will she miss the team?
"Completely, 100 percent," she admits.
But the key behind success isn't one member. Alberts instead says it's a continuation of that learning legacy.
"I think that's what sets us apart, our want to learn and to make ourselves better," she said. "To build not just the buildings, but to build people."
---
Continue to follow ISU CCEE student organizations online at www.ccee.iastate.edu, and on Facebook, Twitter and LinkedIn (Iowa State University Civil, Construction and Environmental Engineering and ISUConE). Support ISU CCEE student successes like this by visiting www.foundation.iastate.edu/ccee.