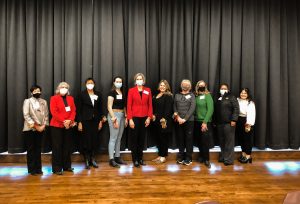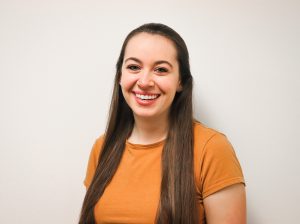 Vayda Wilkins, senior in civil engineering, will be honored in the 2022 Women Impacting ISU Calendar. Fifty-one women were nominated this year, with 12 selected.
The nomination process includes a submission from two individuals on behalf of the honoree, evaluated by past Women Impacting ISU Calendar women, faculty, staff and students, to select the final 12 women for the calendar year. The reception was on January 5th, from 3:30-5 p.m., in the Great Hall of the Memorial Union, honoring the 2022 women as well as the 2021 Calendar honorees. The calendars are available for free at Catt Hall and by request.
Wilkins has been extremely involved in CCEE in her past four years here at Iowa State. The word used to describe her efforts and activities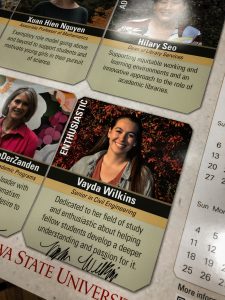 on the calendar is "enthusiastic." She has proven enthusiasm for helping improve the civil engineering experience at Iowa State and supporting fellow students on their education journey.
As a first-year student, Wilkins took CE 160 from Lauren Schwab, CCEE lecturer. It was Schwab's first time teaching the course and the first time the course was not held online. As the two women were navigating the course for the first time, Schwab reached out to Wilkins for help grading assignments, and their friendship and mentorship blossomed from there. Wilkins has been a teaching assistant for Schwab ever since, helping create a better learning experience for the class in seven semesters.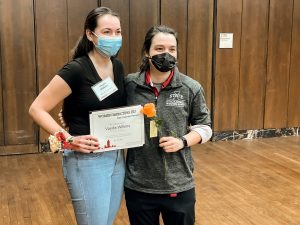 "How can I prepare them for the next class? For their future classes? It has been really cool thinking about all of the different semesters that we have worked together, and how far it has come," Wilkins stated.
Schwab was Wilkins' first nominator, her second being Dr. Katherine Madson, who Wilkins assisted for CE 306. Wilkins has impacted more than 400 students in her four short years here, having a hand in many research projects, assisting for courses, and even being president of the Steel Bridge Club.
At the event last Tuesday, many CCEE professors and faculty members came to support Wilkins in receiving her award.
"CCEE has opened doors for me," Wilkins said. She went into detail that her professors reached out to her to get her involved with many projects.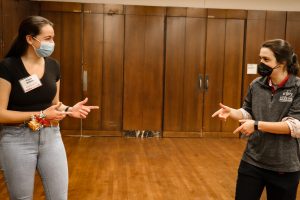 "Are you interested in this research project? In this competition team? I have hardly had to reach out to anybody for these opportunities; CCEE has given me so many things to do," said Wilkins.
Being a woman in STEM, Wilkins has conquered stereotypes and expectations of her. Wilkins said, "Sometimes in getting opportunities, my friends will say it is because I am a woman. I find myself falling into thinking this too sometimes, but I have to remind myself that I deserve it. I work really hard; I am enthusiastic, I get these opportunities because I have these skills."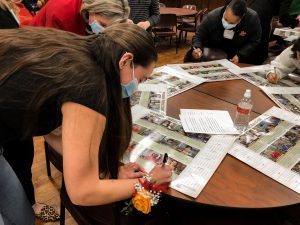 Wilkins will be graduating in May and has accepted a position with Nucor in upstate New York. She interned with Nucor in 2019, trying different internships between then and now; when they reached out with an offer, she happily accepted.
"The things I like about teaching and civil engineering; it's all about the people," Wilkins said. "Making lives easier, teaching something so they understand better, making better roads and buildings, implementing the skills I have gained. I am most passionate about the people."