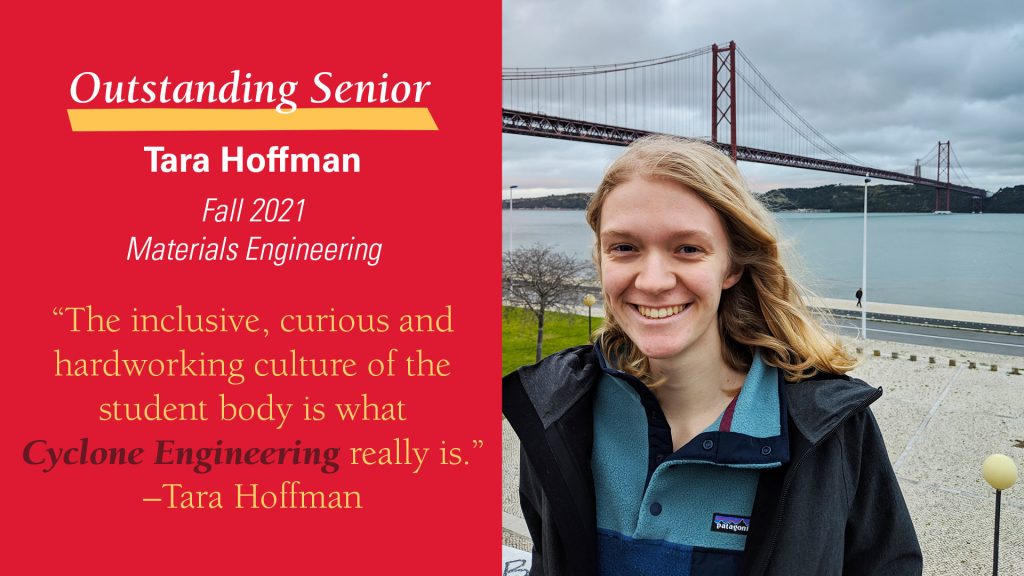 "The inclusive, curious, and hard working culture of the student body is what Cyclone Engineering really is. I probably learned as much in the MSE student room working alongside classmates on difficult projects and assignments as I did sitting in the classroom."
Hometown: West Branch, Iowa
What's your favorite memory of your time at Iowa State?
Having the opportunity to study abroad in Spain for a semester
What's your favorite place on campus?
The Lied bouldering wall
Which of your hands-on learning opportunities was most valuable?
My opportunity to work and learn in materials science and engineering professor Steve Martin's Glass and Energy Materials research group has been invaluable to me because it has inspired me to pursue a career in energy storage. It has given me a solid foundation in research experience to move forward and pursue a graduate degree in the field. 
Who was your most influential mentor while at Iowa State and why?
Steven Kmiec, a PhD student in materials science and engineering in the Glass and Energy Materials lab. Steven empowered me to take on new projects that interested me in the lab and was always there to discuss scientific and/or life questions inspired by this work. He has had a role in many aspects of my decision to pursue a graduate degree and continue research in energy storage.
What's the mark you're looking to leave on the world as an engineer?
I want to help make it possible for everyone to utilize renewable energy in their daily lives by helping to improve energy storage technology. 
As you think back on your time at Iowa State, what does it mean to engineer "like a Cyclone Engineer"?
Speaking specifically about the Materials Science and Engineering department, the inclusive, curious, and hard working culture of the student body is what Cyclone Engineering really is. I probably learned as much in the student room working alongside classmates on difficult projects and assignments as I did sitting in the classroom.