Lori Ryerkerk, an alumna of the Department of Chemical and Biological Engineering (CBE), has been inducted into the CBE Hall of Fame. She accepted the honor November 18 as part of the department's Honors and Awards ceremony that celebrated student scholarships, fellowships and other achievements.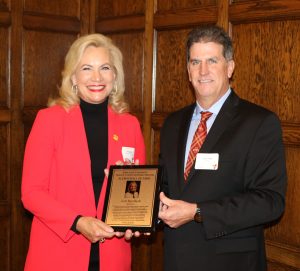 Ryerkerk, who received a B.S. in chemical engineering from Iowa State in 1983, is president, chief executive officer and chairman of the board of Celanese Corporation, a Fortune 500 global technology and specialty materials company.
Earlier this year she received the Iowa State University College of Engineering Anson Marston Medal, the highest honor awarded by the College to alumni that recognizes outstanding achievement in advancing engineering science, technology or policy having national and international impact in academics, industry, public services, government or other venues.
Ryerkerk's expertise in the energy industry spans three-plus decades. She has combined technical and commercial skills with a passion for the manufacturing business, all guided by a continuous emphasis on developing people and increasing diversity and inclusiveness in a historically male-dominated field. She has overseen some of the most technically complex operations in the industry.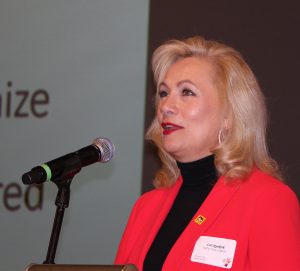 She has been named by Fortune Magazine as one of America's Most Powerful Women in Business and was named CEO of the Year by D CEO Magazine in 2020. She currently serves on the board of directors of Eaton Corporation. She previously served on the board of Axalta Coating Systems.
Celanese is an international corporation involved in areas that include chemistry, cellulose derivatives, polymers, food ingredients, engineered materials and more and operates a wide variety of brands. Learn more about Celanese.
Prior to joining Celanese, Ryerkerk was the executive vice president of global manufacturing at Shell Downstream Inc., where she led a team of 30,000 employees and contractors at refineries and chemical sites worldwide. She has also held senior leadership positions at Hess Corporation and spent 24 years with Exxon Mobil, improving operational performance in assignments across the U.S. to Europe and Asia.
A plaque in her honor will be placed on the department's Hall of Fame wall in Sweeney Hall.