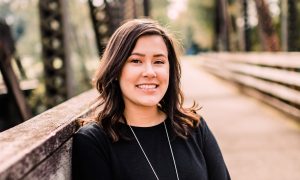 The Iowa State University Department of Materials Science and Engineering (MSE) welcomes Makayla Lim to its staff as administrative assistant.
Over a month ago, Lim moved to Iowa and has been enjoying taking in her new location. Before coming to Iowa State, Lim worked at the YMCA in Washington state while attending school full time for her undergraduate degree in business administration with a focus in management; she graduated last December. While working at the YMCA, she had many roles, from covering a branch to helping to train new staff members in Salesforce.
At ISU, Lim is considering enrolling in a graduate program. "That is something I am ready to get back into, but I will be taking a pause on that for a little while longer," she said.
"Here is a little about me," Lim said. "I love all animals (minus spiders); I am a food lover and reader in my free time. I am currently reading Crime and Punishment by Fyodor Dostoevsky, and when I am not reading, I am with my cats or talking with my family."
Lim started in her position with MSE in Hoover Hall just before the fall break.
"I am very excited to take on the role of administrative assistant," she said. "I am looking forward to the new changes and what I can do to assist in the journey. In the one week that I have been here, I have noticed that everyone is ready to tackle a problem and come back with a solution. That makes me extremely happy, since the changes within a department will be noticed by other faculty and by the students."